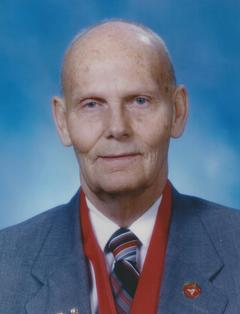 January 14, 1930 to July 28, 2014
CASTORLAND – Ronald Fay Gordon, Sr., 84, of State Rte. 410, Castorland, passed away Monday evening, July 28, 2014 at Upstate Medical University Hospital, Syracuse.
A memorial service will be held at 1:00 p.m. on Saturday, August 23, 2014 at Iseneker Funeral Home, Inc., Lowville, with Rev. Mr. Ronald Pominville officiating. Calling hours will be held at the funeral home from 10 a.m. - 1:00 p.m. prior to the service on Saturday, August 23rd. Ronald has donated his body as an anatomical gift to Upstate Medical University, Syracuse, NY. Burial will be at a later date at West Lowville Rural Cemetery.
Ronald is survived by his wife of over 63years, Mary; his children, Ronald Gordon, Jr. of Fairport, NY; Bethany and James Montague of Syracuse; Stephen and Kristin Gordon of Bergen, NY; Timothy and Lisa Gordon of Brockport, NY; Mark Gordon of Keystone Heights, FL; Andrew and Mary Ellen Gordon of Waterbury Center, VT; Cynthia Gordon and her companion, Robert Sartwell, of Lowville; a sister-in-law, Helen Gordon of Hilton, NY; two step brothers, Richard Robbins and his companion, Liz Demo, of Watertown; Douglas and Ronnie Robbins of Denmark; a step sister, Carol Moody of Valrico, FL; thirteen grandchildren, seven great-grandchildren with one more on the way, and one great great-grandson; several nieces, nephews and cousins. He is predeceased by a son, Gregory David Gordon, who died shortly after birth; a brother, Lynn Gordon; his step mother, Irene Feistel Robbins Gordon; and a step brother-in-law, Al Moody.
Ronald was born on January 14, 1930 in Croghan, NY, son of the late Asa W. and Florence "Flossie" Boshart Gordon.
He attended Copenhagen Central School and Lowville Academy. Mr. Gordon worked for Climax Manufacturing before his marriage. On June 17, 1951, he married Mary K. Borowiec at St. Peter's Catholic Church in Lowville, with Rev. John A. Cotter officiating. Ronald worked for Machold Farms in Ellisburg, Brown's Plumbing, and Schoff Milk Plant before going to work for the Village of Lowville, from where he retired in 1988 after 29½ years of service.
Mr. Gordon was a Life Member of Lowville Elks Lodge #1605, where he held several offices, was awarded Elk of the Year for 1985-86 and received the Outstanding Service Commendation Award for Major Projects in 2004. He was a 4th Degree Life Member of the South Lewis Knights of Columbus and held the office of District Deputy for several years.
Mr. Gordon enjoyed word puzzles, reading, spending time with his family, especially his children and grandchildren, and sharing special times with his brother on Lake Ontario. He enjoyed cutting wood and spending time at the family camp at Sand Pond. Ron took great pleasure in selling raffle tickets to benefit a variety of causes over the years!
Contributions may be made to Friends of Lewis County Hospice, PO Box 266, Lowville, NY 13367; Taking Care of Our Own, PO Box 155, Lyons Falls, NY 13368; or to Lewis County General Hospital Fund for Hope, 7785 North State St., Lowville, NY 13367.
Condolences may be made online at www.isenekerfuneralhome.com