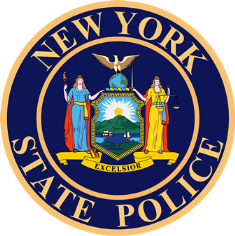 Press Release: State Police in Lowville have released further details of the fatal crash that occurred earlier this morning on State Route 12 in the town of Martinsburg, Lewis County, NY.
At approximately 5:30 a.m., Meghan E. Mathys, age 37, from Lowville, NY was operating a 2007 Ford sedan south bound on State Route 12 in the Town of Martinsburg when she crossed over the center line and side swiped a 2011 Ford, operated by Heather L. Seller, age 41, from Lyons Falls, NY. Mathy's vehicle then began to spin into the northbound lane where she on the passengers side by a 2013 GMC utility truck, operated by 28-year-old, Benjamin J. Russell, from Old Forge, NY who was traveling north on State Route 12.
Mrs. Mathy's was pronounced deceased at the scene. Mr. Russell was transported to Lewis County General Hospital in Lowville, NY, for a minor injury. Mrs. Seller was not injured. Weather does appear to be a contributing factor in this accident. Investigation is continuing.
Initial release can be read here.