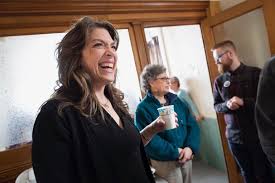 Canton, NY- Despite falling short in the 2018 mid-term election to Elise Stefanik, Tedra Cobb says she is going to run again for New York's 21st Congressional District Seat in 2020.
"Northern New York deserves a representative who will put partisan politics aside and fight to reduce the cost of health care, protect our air and water, improve our infrastructure and economy, and reduce the influence of corporations and billionaires in Washington," said Cobb in a press release. "Congress is broken, and Northern New Yorkers are paying the price. When it comes to the issues that matter most to families in our region, we need more than talk. We need action. I've spent my life fighting for my neighbors in the North Country."
In the past, Cobb served two terms on the St. Lawrence County Legislature and continues her political career today as a recent appointee to a Town and Village of Canton committee that is constructing a new ethics law and board of ethics.
Cobb graduated SUNY Potsdam in 1989. As part of her platform to reduce the influence of corporations in Washington, Cobb has pledged not to accept corporate PAC contributions.