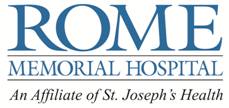 ONEIDA COUNTY- In preparation for a possible local spike of coronavirus cases, Rome Memorial Hospital has submitted a surge plan that would ultimately increase capacity by 50%.
The plan was revealed to the New York Department of Health Tuesday. "The plan takes a multi-dimensional approach of identifying resources inside and outside of the hospital that can be utilized to meet our community's need," Chief Nursing Officer Samantha Vining explained.
Teams of providers have already developed and tested plans to manage multiple patients on a ventilator because the state has identified this as one of the most critical resources to manage patients who are critically ill.
"We express our deepest appreciation to everyone who has come together to protect our patients, residents, staff and community during this evolving COVID-19 pandemic," Vining said. "Because of your dedication, teamwork and ingenuity, we are developing and implementing response plans to best meet our community's needs."
Officials say there are areas and people within the hospital that can be re-assigned where they are needed most.
In terms of external overflow, the hospital has been in cooperation with providers and facilities that can support external surge needs, such as the Griffiss Surgery Center.