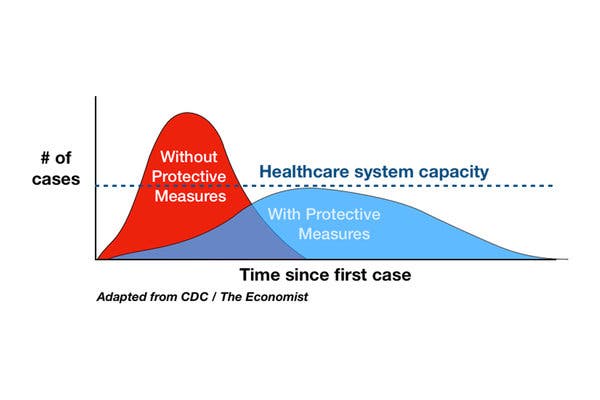 LOWVILLE- Let's say you're a very young, healthy individual and you've just left your college dorm room to spend a week on the beach for spring break.
Knowing there is a pandemic growing around the world, you decide to ignore guidelines from professional health experts and orders from government officials to stay home and party on anyway. You may think to yourself that nothing will happen and if you get a case of coronavirus, it will probably pass with mild symptoms and there won't be any worries.
"If I get corona, I get corona," one young man said to news reporters on a south Florida beach earlier this month.
This is the exact mentality that makes health officials shudder amidst this ongoing pandemic. This type of attitude is what health experts say will bring the virus home to your older loved ones who may not have a strong enough immune system to fight it off and will likely suffer severe complications, or even worse.
"We've all heard a lot about flattening the curve. This refers to using protective measures such as social distancing to slow the spread of coronavirus," Lewis County Public Health Director Ashley Waite said. "A large number of people becoming ill over the course of only a few days could result in a shortage in hospital beds, equipment or staff."
This is where the concept of social distancing measures come into play and although it may serve as an inconvenience for now, over the course of the next few weeks or months, these social restrictions and efforts to keep people out of large groups are aimed save as many lives as possible without breaking the capacity of our healthcare system.
"It's critical that all residents take this seriously and abide by the rules of social distancing," Waite added.
If you think social distancing is a hoax, health officials encourage you to research Philadelphia's Liberty Loan Parade in 1918, an event which took place in the middle of what was known as the Spanish Flu, one of the most deadly outbreaks to hit the U.S. in history. Despite evidence of this flu reaching the nearby Navy yard, officials decided to carry on with the September 28 parade, a choice which led to deadly consequences.
By October 1, 635 new cases erupted in Philadelphia and within only six-weeks, more than 12,000 people had died from the deadly illness. The city of St. Louis, MO had a similar parade scheduled, but cancelled and only had a death toll there that did not rise above 700, according to the CDC.
Although COVID-19 isn't nearly as severely lethal when compared to the Spanish Flu of 1918, the idea of social distancing is to protect those who are vulnerable to severe complications. New Yorkers are currently under orders from the Governor's Office to stay home and only visit essential stores only when absolutely necessary. With the kids home from school and uncertainty of when exactly things will start getting back to normal, a lot of families are starting to settle in while trying keep their composure during this disruption.
"Staying home does not have to be staying indoors. We urge people get outside and walk, jog, hike, ride a bike or visit a park. This is all good for physical and mental health during this time of crisis," Waite emphasized.
As of Wednesday, March 25, Lewis County still has no confirmed cases of coronavirus. "It takes a strong community working together to make this happen," Waite said. "I encourage all residents to remain diligent in social distancing efforts to slow the spread of the virus."
Lewis County Public Health will host a Facebook live video this afternoon (Wednesday, March 25) at 4:00 p.m., where residents will be able to view and ask questions about social distancing. Be sure to listen to our featured on-air interview today with Lewis County Public Health Director Ashley Waite: