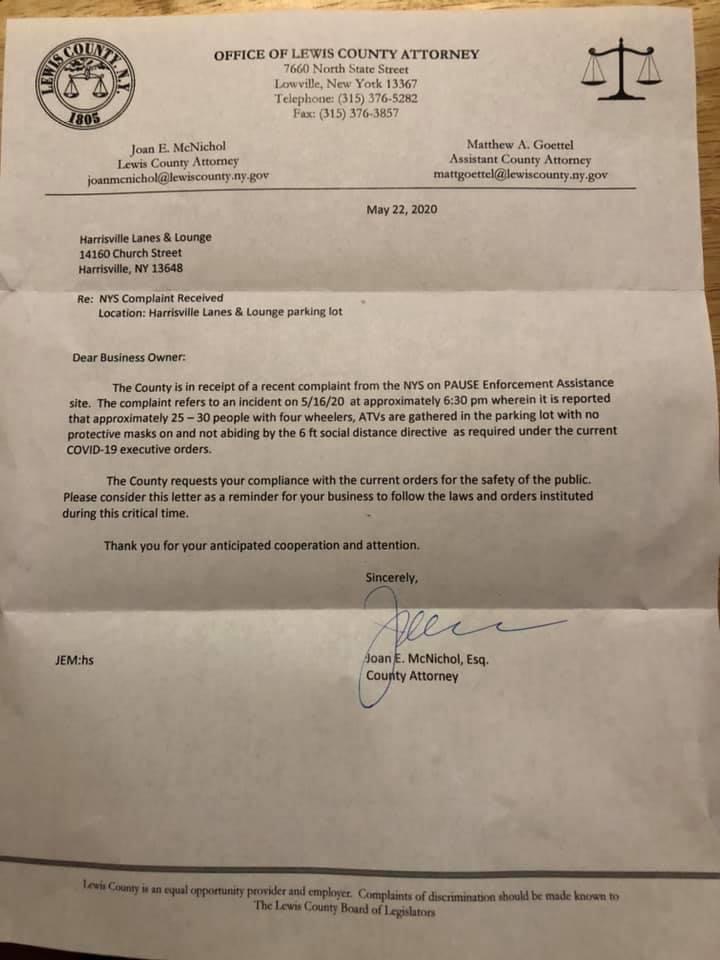 LEWIS COUNTY- A North Country business has retaliated on social media against a social distancing complaint.
Harrisville Lanes & Lounge received a letter from the Lewis County Attorney's Office this past Friday regarding someone who had utilized the Governor's tip-line to expose a group of ATV riders who were apparently gathered in the parking lot and waiting for their food.
"Thanks to the complainant because right now we didn't have enough to worry about trying to stay afloat as a small business in NY," the Facebook post reads.
The establishment is reportedly owned by Lori Kobylanski and Jeff Exford.
The claim stems from the evening of May 16, according to the letter.
Like several other establishments, Harrisville Lanes & Lounge has been serving up take-out until they're allowed to have people congregate inside once again.
According further to their Facebook post, the business is only down to two employees: one who takes the orders and one who does the cooking. The lengthy retaliation also accuses the County Attorney's Office of not doing enough to investigate and see if the claim was really valid or not.
Both Kobylanski and Exford say the complainant is wrong. "It boils down to this: I don't have the resources to police the parking lot where adults are waiting for their take-out food," the scathing post went on. "I don't think it's my responsibility. It's rather that of the patrons to comply with the latest orders for their personal protection."
The letter did not indicate any fines against the business, but rather as a reminder to ensure all safety measures are enforced.
Kobylanski and Exford both ask anyone who may visit their place for take-out to please take their own responsibility in terms of adhering to social distancing guidelines.