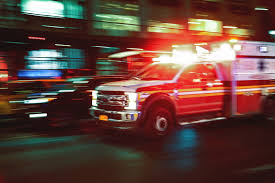 WEBB- Authorities investigated a collision between two personal watercrafts on the Fulton Chain of Lakes Tuesday afternoon.
Town of Webb Police Chief Ron Johnston says the initial call for help rang in shortly before 2:30 p.m. Early reports indicated that a man was in the water and was unresponsive.
The collision occurred on Third Lake, police said. Emergency responders were able to access the scene off the Marleau Road, near the Bald Mountain Colony.
By the time Old Forge Fire Department & EMS and Town of Webb Police found the scene of the crash, nearby bystanders had retrieved the unconscious man and took him to shore in another boat.
Police identified the victim as Aaron R. Bland, 51, of Binghamton, NY, who was able to regain his consciousness. EMS took Mr. Bland to St. Elizabeth's Hospital in Utica for a further evaluation.
The operator of the second personal watercraft, Kathleen M. Sciortino, 48, of Marcy, NY reportedly refused medical treatment, according to police.
Investigation has determined both Bland and Sciortino were heading northeasterly on Third Lake. Police said Bland made a sudden U-turn directly into the path of Sciortino. Knowing she was unable to avoid a crash, Sciortino told police that she bailed from her personal watercraft. However, her machine reportedly continued straight and ran right into Mr. Bland.
Furthermore, the Town of Webb Police has concluded their investigation by issuing both Bland and Sciortino with citations for operating a personal watercraft without possessing a valid boating safety certificate under New York's Navigation Law.
Both parties are due to answer their charge in the Town of Webb Court at a later date.