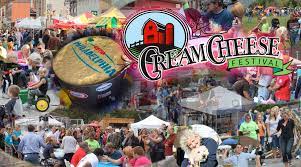 LOWVILLE- The annual Cream Cheese Festival is aimed for this Saturday, September 18 here in downtown Lowville, NY.
With much of the family fun centered right in the heart of downtown, Festival Chairperson Jeremiah Papineau reminds spectators of a few street closures. From 7:30 a.m. to 7:30 p.m. the day of the festival, – Parkway Drive and North State Street, from the main intersection at Dayan Street and Shady Avenue to Bostwick Street, will be closed to accommodate the festival.
Festival goers will find free parking at Tops Plaza, where the south shuttle bus terminates. Free parking is also available at the Lewis County Fairgrounds, which is where the north shuttle bus terminates at Lowville Academy's bus garage.
Handicap-accessible parking is also available on a first-come, first-served basis at the locations on the interactive map below, including the Lewis County Courthouse, and various locations downtown. Look for signage.
Lewis County Public Transportation is providing the shuttle bus service throughout the day from 10:30 a.m. to 6:30 p.m. It's $1 per-ride and festival goers are expected to provide exact change, Papineau clarified.
The annual celebration is scheduled to run from 11:00 a.m. to 6:00 p.m.
Those needing to navigate through the village during the festival are asked to follow the directed detour routes.
Be sure to listen to our latest on-air interview with Festival Chairperson Jeremiah Papineau for more details:
Image courtesy via the Lowville Cream Cheese Festival. This story was updated at 6:56 a.m. Tuesday, September 14.