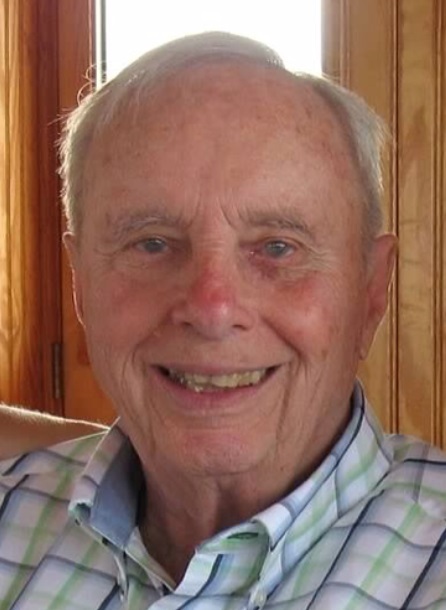 BORN MaRCH 24, 1922

Boonville- Joseph J. Pfeiffer, Sr., formerly of Schuyler St., husband of Joan, passed away at his home on Smith Road, Boonville.

He was born in Rome, on March 24, 1922, a son of Joseph and Helen Dorn Pfeiffer. Joe grew up in Rome, graduating from Rome Free Academy, with the Class of 1939. While in high school, Joe was a member of the first RFA Hockey Team, a sport that he greatly enjoyed. He was employed in the operation of Pfeiffer's Restaurant, on Floyd Ave, until 1942.

In 1942, Mr. Pfeiffer enlisted in the U.S. Navy, serving his country in the Asiatic-Pacific Theater of WWII, at USNTS Sampson, NY, NYD, Philadelphia, PA, USS Nauset, So. Annex Naval Base, Norfolk, VA, USS Brush and PSC USBN Bremerton, WN. He received the Asiatic Pacific Area Campaign Medal with 3 stars, the American Area Campaign Medal, Philippine Liberation Medal with one star, and the European African M.E. Area Campaign Medal. He was honorably discharged on January 13, 1946. After serving his country, he was employed in home construction in the city of Rome and at Pfeiffer's Restaurant.

On July 12, 1945, Joseph was united in marriage with Joan Kallet, in Rome.

In June 1950, the couple moved to Boonville, when he and his family purchased the Franjo Movie Theater, an 800 seat modern theater, which was constructed next to the Union Block in downtown Boonville, in 1936. Originally named the Avon, the theater was renamed in 1939, to the "Franjo." The new name was in reference to Frances and Joseph Sternberg, who had constructed, owned and operated the theater. Mr. Pfeiffer continued to operate the Franjo, one of the finest theaters in upstate New York, until it was destroyed in the Union Block Fire, on May 2, 1963.

While operating the Franjo, he founded a small sporting goods store which he operated in a small area of the theater building. After the 1963 fire, Mr. Pfeiffer constructed a large, modern retail building on the site of the Franjo, which became Adirondack Sports Center, one of the largest and finest sporting, outdoors and boating stores in northern New York. He and his family operated this store for many years, later retiring and spending winters in Ft. Myers Florida and summers at White Lake. Joe was a skilled carpenter and for many years he worked in home and building construction in the Boonville area.

Mr. Pfeiffer was a charter and then a life member of the Boonville Elks Lodge # 2158, and a member of Charles J. Love Post American Legion # 406, and Harland J. Hennessey Post V.F.W., both of Boonville. He was an active member of the Boonville Kiwanis Club for many years. He greatly enjoyed the outdoors and was a member of the Balsam Flats Hunting Club and the Blackjack Lodge Hunting Club, of Lyonsdale.

In addition to his wife, Joan, Joe is survived by his children; Kathy (Bill) Clayton, Rochester, Joseph J. (Nancy) Pfeiffer, Jr. Boonville, and their children, Kristen, Joseph III, Bryan, Christine (Steve) Signore, Ft. Myers Fla, and their daughter, Sara, Debra Pfeiffer and fiancée Barry Hutchinson, Manlius, and her daughter, Katherine, Mary Judith (Judy) (Don) Jernigan, Ft. Myers, Fla, and their son, Matthew, John R. (Shelly) Pfeiffer, Boonville, and their children, Ryan, Robert and Jenna and Jim K. Pfeiffer, Sr. Utica; and his children, James (Jamie) and Douglas, four great grandchildren, Abbey, Maddie, Emmett and Isheah Pfeiffer. Joe was the last of his family; he was predeceased by two brothers, Donald Homan, and Robert Pfeiffer and one sister, Jean Barrett.

Relatives and friends are invited to attend services at Rome Cemetery on Wednesday, at 12 Noon, where Rev. Sean Patrick O'Brien, will officiate, and members of Charles J. Love Post # 406 American Legion, Harland J. Hennessey Post VFW and the Tun Tavern Marine Corps League, all of Boonville, will accord Military Rites.

In lieu of flowers, memorial contributions may be made to Boonville Fire Department Ambulance Fund, P.O. Box 164 Boonville, NY 13309, or to Sunset Nursing & Rehabilitation Center Resident Activity Fund 232 Academy St. Boonville, NY 13309, or to Hospice & Palliative Care, Inc. 4277 Middle Settlement Road, New Hartford, NY 13413.

- See more at: http://www.trainorfuneralhome.com/obituary/Joseph-J.-Pfeiffer-Sr./Boonville-NY/1394983#sthash.QqzjKuQz.dpuf