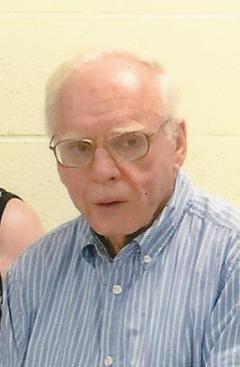 November 6, 1936 to April 17, 2015
GLENFIELD – Robert J. Davis, 78, of Blue Street, Glenfield, died Friday afternoon, April 17, 2015 at Lewis County General Hospital.
The funeral will be at 1:00 p.m. on Tuesday, April 21, 2015 at Iseneker Funeral Home, Inc., Lowville with Rev. Roger Croat, officiating, assisted by Rev. Bruce W. Chapman. Calling hours are from 11:00 a.m. -1:00 p.m. on Tuesday, prior to the funeral service at the funeral home. Burial with Military Honors will be in the Turin Cemetery. A luncheon at the Lowville VFW will immediately follow the burial. Any food donations may be taken to the Lowville VFW on Tuesday morning after 10:00 a.m. Contributions may be made to Glenfield United Methodist Church, Widmeyer St., Glenfield, NY 13343; or to 3-G Fire Department, P.O. Box 112, Glenfield, NY 13343.
He is survived by two brothers, David Davis of Boonville; and Clarence and Jean Davis of Glenfield; two sisters, Inez Briggs of Sandy Creek and Gladys Howard of Port Leyden; a sister-in-law, Joan Davis of Lowville; a special cousin, Carol Norris; several nieces, nephews and cousins. He is predeceased by two sisters, Alma Davis, who died at age 15, and Laura Korilla Davis, who died in infancy; four brothers and their wives, Ray & Evelyn, Herbert & Alma, Leonard & Inez and Lansing Davis. He is also predeceased by a sister-in-law, Chris Davis.
Robert was born on November 6, 1936 in Lyons Falls, NY, a son of the late James and Korilla VanAlstine Davis. He graduated General Martin High School in 1956. He joined the Army Reserves while in high school, and served from 1957 until being honorably discharged in 1959. Robert did farm work while in school, and worked for Elwin Rowell in Glenfield before going to work for Hall's Ski Lift at Burdick's Crossing. Mr. Davis continued to work with the company when they moved to Watertown in the early 1960's, and retired from American Tramways of Watertown in 2002.
In his younger years, he enjoyed hunting, fishing, and wood carving. In his youth he was a boy scout. Mr. Davis enjoyed embroidery, flower and vegetable gardening.
Condolences may be made online at www.isenekerfuneralhome.com