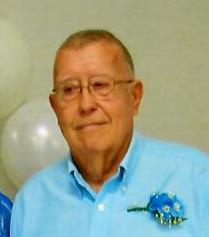 March 14, 1932 to April 11, 2017
BEAVER FALLS – William D. Marolf, 85, of Beaver Falls, passed away on Tuesday afternoon, April 11, 2017 at St. Elizabeth's Hospital, Utica.
A funeral service will be held at 10:30 a.m. on Saturday, April 15, 2017 at Iseneker Funeral Home, Inc., Lowville, with Rev. Bruce W. Chapman officiating. Burial with Military Honors will follow in St. Stephen's Cemetery. Calling hours are from 1 – 3 and 6 – 8 p.m. on Friday, April 14, 2017 at the funeral home. Contributions in his memory may be made to Lewis County General Hospital Fund for Hope, 7785 N. State St., Lowville, NY 13367; Beaver Falls Fire Department, P.O. Box 456 Beaver Falls, NY 13305; Croghan Fire Department, P.O. Box 405 Croghan, NY 13327.
He is survived by a son, James and Diana Marolf of Beaver Falls; a daughter, Jane and Stephen Monnat of Croghan; five grandchildren, Elizabeth and Jason Zehr; James Marolf, Jr.; Kelly and Andrew Juby; Michele and Andrew Nikitich; Patrick Monnat; eleven great-grandchildren, Morgan and Corey Stevens; Elijah Smith; Chloe, Paige and Macie Zehr; Alé Marolf; Maddison and Cassie Juby; Reece and Mia Nikitich; five sisters-in-law, Vada Marolf of Lowville; Ruth Sweeney of Lowville; Viola Marolf of Turin; Jackie Marolf of Colorado; Bessie Trembley of Carthage; many nieces and nephews. Bill is also survived by the family of the late Clara Marolf. He was predeceased by his first wife, Elberta, and his second wife, Clara; a son, William Marolf, Jr.; four sisters, Joyce Blair, Beulah Duffer, Francis Knight, and Eleanor Marolf; four brothers, Harry Marolf, Herbert Marolf, Gordon Marolf, and Glenfred Marolf.
William was born on March 14, 1932 at home, Toy Town, Town of Croghan, a son of the late Fred and Belva Hutchins Marolf. He attended Beaver Falls High School. Bill worked at J.P. Lewis paper mill before serving with the U.S. Army from 1950 until his honorable discharge as Sargent in 1953. On July 3, 1954, he married Elberta Trembley in Carthage. Elberta died on February 6, 2012. After his service, Bill worked for AMF, and Patten Plumbing and Heating in Croghan. He worked for Beaver River Central School for 27 years, retiring as Head Custodian in 1989. On August 13, 2016, he married Clara Marolf at Croghan Island, with Rev. Bruce W. Chapman officiating. Clara died January 25, 2017.
Mr. Marolf was a member of Beaver River Memorial Post 1663, Croghan American Legion, a member of Lewis County Memorial Post #6912, Lowville VFW, and an honorary member of the Beaver Falls Fire Department. Bill was a former member of the Mullin's Pond Hunting Club. His hobbies and interests included chainsaw carving, square dancing with the North Country Swingers, snow sledding, traveling with his camper and taking his grandchildren with him, driving with no destination and watching softball games. He was an avid outdoorsman.
Condolences may be shared with the family online at www.isenekerfuneralhome.com