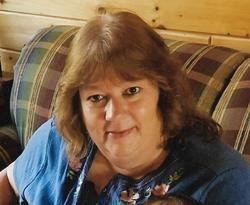 December 26, 1963 to September 11, 2017
Boonville – Jacqueline (Jackie) Karpinski, 53, passed away at Sunset Nursing & Rehabilitation Center on September 11, 2017 surrounded by loving family.
She was born in Lowville on December 26, 1963, a daughter of John Paul and Eleanor Baker Karpinski. Jackie grew up on the East Road and attended school at South Lewis Central School and graduated from Adirondack Central School in 1982. She was employed at Lally's Knitting Mill in Port Leyden, Boonville Tire and Lyons Falls Tire, both in the office. She was last employed at Mercer's Dairy in the office for 12 years until illness forced her to retire. She enjoyed spending time with her family, especially her children and grandchildren.
Surviving is her life partner, David Lee, Boonville; four children, Kayla and Brian Perry, Boonville, Kari and Kevin Williams, Boonville, Amber Lee, Rochester and Ryan Lee, Syracuse; two grandchildren, Maya and Eli Perry; her father Paul Karpinski, Boonville; three sisters, Melinda and David Moscicki, Boonville, Lauri Karpinski, Boonville and Deborah Briot, Croghan; one brother, Mike and Maryann Karpinski, Boonville and several nieces and nephews. She was predeceased by her mother Eleanor in 2014.
Jackie's funeral will be held 10 a.m. Friday, September 15, 2017 at Mills Funeral Home, 301 Post St, Boonville. Calling hours will be Thursday 2-4 and 6-8 p.m. at the funeral home. Burial will be in St. Joseph's Cemetery, Boonville. Contributions can be made to the A.L.S. Foundation or Boonville Ambulance.
For an online message of sympathy please go to www.millsfuneralhomes.com