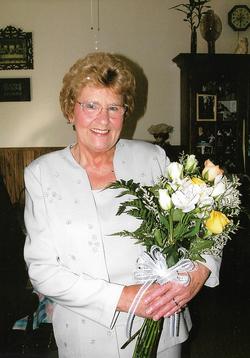 October 8, 1933 to November 4, 2017
Boonville-Eileen R. Marcy, 84, of State Route 294, passed away on November 4, 2017 at St. Luke's Hospital.
She was born in Utica on October 8, 1933. Her father died when she was three years old and was raised by her mother, Kathleen. She attended Utica Free Academy and was employed at various restaurants, Twin Ponds, Club Monarch and Massouds, throughout the years. On July 3, 2004 she married Dean Marcy in Boonville. She was a member of the Charles J. Love Post American Legion Ladies Auxiliary and the Harland J. Hennessey V.F.W. Ladies Auxiliary, Boonville. Eileen enjoyed doing crafts, playing pitch, gardening, bowling, dancing and her cat, Smokey. Most of all she loved her family and grandchildren.
Surviving are her children, Kathleen Izzo and John Mishlanie, Utica, Barbara and Dennis Elmendorf, Gloversville, NY, William and Patricia Mammone, New Hartford, Robert Mammone, Fairbanks, Alaska and Edward and Megan Borek, Clinton; sixteen grandchildren; many great grandchildren; sister, Beverly Fitzsimmons, Pennsylvania; step children, John and Becky Marcy and family, Boonville and Terry Marcy and family, Lyons Falls and special friends, Linda Luchsinger and Cherie Getman . She was predeceased by her husband, Dean Marcy in 2013 and a son, Dale Alsheimer in 2013.
A funeral service will be on Tuesday, November 7, 2017 at 12 p.m. at Mills Funeral Home, 301 Post Street, Boonville. Calling hours will be Tuesday 10 a.m. -12 p.m. prior the service. Burial will be in St. Joseph's Cemetery, Boonville.
For an online message of sympathy please go to www.millsfuneralhomes.com