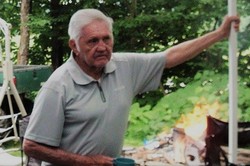 July 10, 1927 to November 3, 2017
Town of Western-Charles J. Turner, 90, of Hillside Road, Boonville, passed away at home on November 3, 2017 under the care of his loving family.
He was born in Harrisburg, Pa. on July 10, 1927, a son of Charles and Marie Hardy Turner. He grew up in Pennsylvania and on July 9, 1953 he married Fay R. Meyers. Then they moved to Rome and finally to their present home on Hillside Road in 1962. He retired from GAFB as a radar technician for the U.S. Government after many years of service. Charles was a WWII and Korean War Veteran where he served on the USS North Carolina and the Newport News. He was a loving father, husband and a wonderful grandfather to all his family.
Surviving are his children, Charles G. and Cindy Turner, Rome, Debra Rockwood, Boonville, Carol and James Munn, Boonville, Lorraine Cady, Boonville, Mary Brooks, Westernville, John and Melonie Turner, Pulaski, Tracy and Kevin Menge, Camden, James Turner, Lee Center, Mark Turner, Boonville, Gary and Janel Turner, North Western and Darlene Wells, Boonville; grandchildren, Troy and Brandy Turner, Terri and John Rockwood, Michael Shepherd Jr., Ellis, David and Andrea Cady, Josh, Jim and Glenn Brooks, John Jr., Koti, Jordan and Gabe Turner, Carolann and Courtney Bradish, Brandon, Brayden and Landon Turner, Guy and Gavin Turner, Marc Helfert and Cailin Wells and many great grandchildren. He was predeceased by his wife, Fay R. Turner in 2014, a son, Michael in 2012 and three sons-in-law, Mike Shepherd, Robert Cady and Chris Brooks.
Funeral services will be on Thursday, November 9, 2017 at 10 a.m. at Mills Funeral Home, 301 Post Street, Boonville. Calling hours will be on Wednesday 2-4 and 7-9 p.m. at the funeral home. Burial will be in Westernville Cemetery. Donations can be made to American Cancer Society or to the Alzheimer's Association.
For an online message of sympathy please go to www.millsfuneralhomes.com