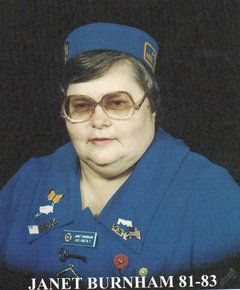 October 31, 1936 to March 29, 2014
LOWVILLE- Janet M. Burnham, 77, died Friday morning, March 21, 2014, at the Lewis County Residential Healthcare Facility.
The funeral will be Saturday, March 29, 2014 at 10:30 a.m. at Iseneker Funeral Home, Inc., Lowville, with Rev. Everett F. Reed and Rev. Keith W. Hardy, Pastor of Bethel Church of the Nazarene officiating. Spring burial will be in Brantingham Cemetery. A gathering at Lowville VFW post #6912, 7752 West State Street, will follow the funeral service.
Calling hours are Friday, March 28, 2014 from 2 – 4 and 7 - 9p.m. at the funeral home. Contributions may be made to Lewis County Memorial Post #6912, 7752 West State Street, Lowville, NY 13367 or Lowville Baptist Church, P.O. Box 89, Lowville, NY 13367.
She is survived by two sons from a previous marriage, Mark Schulz and his wife, Linnea, of Clifton, Colorado; Scott Schulz and his wife, Nancy, of Lowville; two step sons and daughters-in-law, Robert and Julia Burnham of Hollister, CA; Roger and Mary Burnham of Tucson, AZ; two step daughters, Sharon Chauncey of Albany, GA; Janet Silveria of San Diego, CA; a sister-in-law, Berneda Farney of Lowville; 14 grandchildren, 12 great-grandchildren, nieces, nephews and cousins. She is predeceased by her husband, Stewart G. Burnham, who died August 23, 2008; and three brothers, Paul Farney, Wilbur R. Farney, Herbert H. Farney, twin sisters, Betty and Bessie Farney.
Janet was born on October 31, 1936 at Idle Ease in Croghan, NY, a daughter of the late Webster P. and Alvena Farney. She moved to Lowville with her family at the age of seven, and graduated from Lowville Academy in 1954. Janet was a housekeeper for her brother Wilbur Farney and his family for three years, and did domestic work in the Lowville area. On February 11, 1977, she married Stewart G. Burnham at Lowville Methodist Church. Mrs. Burnham worked for Lowville Academy in the cafeteria for over 20 years, retiring in 1998. Mrs. Burnham was a member of Lowville Baptist Church. She was a life member of Lewis County Memorial Post #6912 Auxiliary, serving multiple terms as President. She was Past President of the Mohawk Valley Council, Veterans of Foreign Wars Auxiliary, and Past President of District #4, Veterans of Foreign Wars Auxiliary and President of the year. She was a member of Beaver River Memorial Post #1663, Croghan American Legion. Janet enjoyed cooking and baking, and spending time with her children and grandchildren. Janet had been a resident of the Lewis County Residential Healthcare Facility since 2005, and was well loved by all. She was fondly known as "The Mayor" of the third floor.
Condolences may be shared with the family at www.isenekerfuneralhome.com