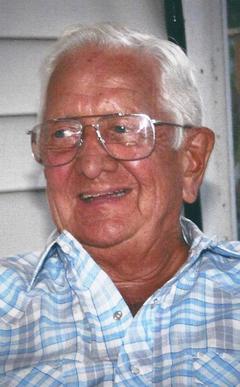 April 9, 1928 to May 18, 2014
LOWVILLE- Stanley A. Mathys, 86, of River Road, Lowville, died Sunday morning, May 18, 2014 at his home, under the loving care of his family.
A funeral service will be held on Thursday, May 22, 2014 at 2:00 p.m. at Iseneker Funeral Home, Inc., Lowville, with his son, Pastor Michael Mathys of Bible Believers Independent Baptist Church, Pine Hall, NC, officiating. A calling hour will be held on Wednesday evening, May 21, 2014 from 7 – 8 p.m. at Iseneker Funeral Home, Inc., Lowville. Burial will be at a later date in the Riverside Cemetery Annex, Beaver Falls, NY.
He is survived by his wife of over 63 years, Joyce; four children, Andy John Mathys and his wife Tippy of Walnut Cove, NC; Jennifer and Sandy Robbins of Amenia, NY; Michael and Linda Mathys of Winston-Salem, NC; Connie and Sandy Sizemore of Walnut Cove, NC; a sister, Grace Longtin of Texas; 14 grandchildren, eight great-grandchildren with one on the way; and two nieces, and a nephew. Mr. Mathys is predeceased by a sister, Nellie Mathys.
Stanley was born on April 19, 1928 in Croghan, NY, a son of the late Andrew J. and Mary Wickman Mathys. He graduated from Beaver Falls High School in 1946. On September 9, 1950, he married Joyce A. Yousey at the Evangelical United Brethren Church with Rev. Pusey officiating. Mr. Mathys was drafted into the U.S. Army, and served during the Korean War. After the war, he worked for J.P. Lewis for five years. Mr. Mathys went to work for Geigy in Ardsley, NY, moving his family to Yonkers, and later Brewster, NY. In 1971, he was transferred to Ciba-Geigy in Greensboro, NC. Mr. Mathys retired in 1985 as a chemist for Ciba-Geigy, and moved back to Lewis County.
Stanley was a member of Beaver River Memorial Post 1663, Croghan American Legion. He was a member of the Beaver River Fish and Game Club, and was a life member of the New Bremen Fish and Game Club. He enjoyed hunting, fishing and snowmobiling.
Condolences may be shared with the family at www.isenekerfuneralhome.com