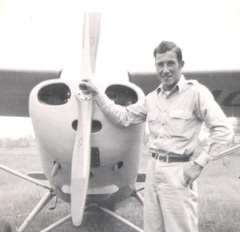 February 21, 1925 to July 13, 2014
George A. Kuntz,89, passed July 13, 2014 at the Lewis County Nursing and Rehabilitation Center where he was a resident.
A funeral service will be 11a.m. Thurs., July 17 at the Iseneker Funeral Home, Inc., Lowville. There will be no calling hours.
Burial with military honors will follow in Beaches Bridge Cemetery.
Born on February 21, 1925 in Ebervale, PA, son of George J. Kuntz and Mary T. Lenhart, he graduated from Lowville Academy and attended Paul Smiths Signal Corps.
He entered the US Navy on April 17, 1943 and served with the Navy Sea Bees during WWII. He was one of the first at Camp Perry, VA and Fl to train the Navy Seals. He served in Saipan and Okinawa. He was honorably discharged on December 30, 1945 as a Carpenter's Mate Third Class, receiving the Asiatic Pacific Medal, WWII Victory Medal and American Theater medal.

Following the service he worked at General Electric in Syracuse. Me married Norma J. Townsend of Syracuse in Florida. The couple then resided in Glenfield where they operated the family farm on the Wetmore Road for several years. He and his wife owned and operated the Hitching Post Bar & Restaurant in Watson for 9 ½ years during the late 1960's and he worked as a carpenter for various companies, retiring from Kiewit Eastern.
He enjoyed hunting, fishing, camping, flying his own plane, traveling and spending time at Todd and Chris's camp in the summer.
He was a Charter and Life Member of the Lewis County VFW Memorial Post #6912 where he was the first Quartermaster and member of the Lowville American Legion Post #162.

Among his survivors are two daughters, Christine of Lowville and his son in law,Todd Lyndaker, Croghan, Janet and John Widrick, Glenfield, 10 grandchildren, 10 great grandchildren,1 great great grandchild, nieces and nephews.
A son, George R. Kuntz and his wife Norma passed before him.
In lieu of flowers donations may be made to the Lowville VFW or any other Veteran Organization.
Chris would like to extend her deep appreciation to Todd and Tammy for being with her during her father's final days. Your love and support meant more than you could imagine. Thank you to all the visitors, nurses and staff at the nursing home we are so grateful for your services.
Online condolences may be made at www.isenekerfuneralhome.com