Details
July 10, 1920 to February 20, 2014
LOWVILLE – Cecil G. Bishop, 93, formerly of Jefferson Street, died Thursday evening, February 20, 2014, at the Lewis County Residential Healthcare Facility.
A funeral service will be held at 10:30 a.m. on Sunday, February 23, 2014 at Iseneker Funeral Home, Inc., Lowville with Rev. Bruce W. Chapman, officiating. Following the funeral, family and friends are invited to a gathering at the Bishop home, 5267 Jefferson Street, Lowville. Spring burial with Military Honors will be in St. Stephen's Cemetery, Croghan.
He is survived by a son and daughter-in-law, Dennis G. and Pamela Bishop of Lowville; two grandchildren, Jill and Craig Ortlieb of Lowville, and Andrew G. and Kristy Bishop of Windham, ME; four great-grandchildren, Jenna, Jared, Drew Ortlieb, and Elias Bishop. Mr. Bishop is predeceased by his wife, Lucille A. Bishop, a daughter and son-in-law, Ann E. and Michael J. Blair; two brothers, Claren and Flodie Bishop and four sisters, Christine Bowen, Margaret Wheatley, Jewell McNeese and Frances Smith.
Mr. Bishop was born on July 10, 1920 in Paris, TN, a son of the late James Anthony and Lena Reynolds Bishop. He was educated at Erin High School in Erin, TN. Following high school, he worked at Cleeman's Meat Market in Clarksville, TN. In January 1941, he enlisted in the U.S. Army, serving throughout World War II, seeing action in Normandy, Northern France, Rhineland, Central Europe, and Ardennes. He was honorably discharged on October 10, 1945. On December 22, 1945, he married Lucille A. Ritz at St. Stephen's Rectory in Croghan, with Rev. Ermin E. Klaus, OFM, officiating.
After their marriage, the couple lived in Tennessee for six years. Cecil graduated from Austin Peay University in Clarksville, TN in 1949. He served as Principal and 8th grade teacher at Roosevelt Elementary School outside Clarksville, TN for two years. After returning to New York, the couple owned and operated Pickert's Drug Store in Copenhagen for three years. Mr. Bishop completed his graduate work at St. Lawrence University, Canton. He taught junior high school English and Social Studies at Copenhagen Central School for three years, before coming to Lowville Academy, where he taught junior high school English for many years until retiring in 1979. Mrs. Bishop died on August 8, 2010. Mr. Bishop enjoyed hunting, fishing, gardening and playing cards.
Condolences may be made online at www.isenekerfuneralhome.com
Details
March 29, 1949 to February 19, 2014
Boonville- Linda Lee (Burge) Chaput, of Black River Lane, wife of Donald L., passed away on Wednesday, February 19, 2014 at Sunset Nursing & Rehabilitation Center, Boonville, after a long, hard fought battle with breast cancer.
She was born in Phillipsburg, Pennsylvania, on March 29, 1949, a daughter of James Winfield and Edna Maxine Albert Burge. Linda grew up in Morrisdale, PA, where she graduated from West Branch high school with the Class of 1967.She attended and graduated from Greater Greensburg Salem Technical College earning her degree in practical nursing. After that she was employed as a Licensed Practical Nurse in Clearfield, PA, Jacksonville, FL, San Diego, CA, and Philadelphia, PA. On February 3, 1973, Linda was united in marriage with Donald L. Chaput, at the Kingsland, Georgia, United Methodist Church. On December 31, 1992, Mr. Chaput retired from his career in the U.S. Navy and the couple moved to Boonville, in 1993 settling at their present home on Black River. From 1995 until her retirement in 2012, Mrs. Chaput was employed at Adirondack Central School K-8 Building and then at the Junior High School as a teacher's aide. Linda greatly enjoyed her career as a teacher's aide; she will be fondly remembered for her great smile, sense of humor and affection, guidance and academic assistance that she showered upon all of her students. The highlight of her career was the time she spent monitoring the Mandarin Chinese language classes. Linda was a member of Herkimer Road Church of Christ in North Utica where she was active as a Sunday school teacher and chaperone for teen group functions. Linda also enjoyed hosting the congregation for a Memorial Day picnic at her home on the Black River. Linda truly loved her home on the Black River and spent many hours landscaping the yard with flower gardens. She also enjoyed cooking and canning vegetables. Linda earned the nickname of "Mama Cheps" by providing lunch for the musical cast at ACS on rehearsal Saturdays during the years that she served as co-director. Linda was a very dedicated and supportive mother, She never missed a musical performance or sporting event that her son participated in.
In addition to her husband, Don, she is survived by one son, Donald J. Chaput, Yorkville, NY, two sisters, Mary Rachelle (Thomas) Broderick, Niagara Falls, NY, Patricia Ann (Curtis) McKnight, Morrisdale, PA, her parents, James Winfield Burge and Edna Maxine Burge, of Morrisdale, PA, two sisters-in-law, Sharon Lorenz, Mesa, AZ and Sandra (Ken) Haraseth Riverdale, ND, nieces and nephews.
A memorial service will be held on Sunday, February 23, at 6:00 P.M. at the Herkimer Road Church of Christ, 1330 Herkimer Road, North Utica, with entombment of her ashes to follow at a later date at the columbarium at Arlington National Cemetery, Arlington, VA. There are no calling hours.
Memorial contributions may be made to American Cancer Society Oneida/Herkimer Branch Office 100 Lomond Place Utica, NY 13502. For an on-line message of sympathy, please go to www.trainorfuneralhome.com. Her arrangements are entrusted to Trainor Funeral Home, Inc. 143 Schuyler St. Boonville, NY.
- See more at: http://www.trainorfuneralhome.com/obituary/Linda-Lee-Chaput/Boonville-NY/1345885#sthash.lB6u7iUK.dpuf
Details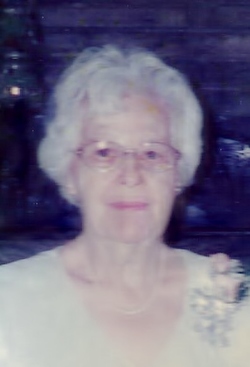 March 26, 1925 to February 14, 2014
Lee Center- Rosemary S. Walker, 88 of Capron Road, passed away February 14, 2014 at Rome Memorial Hospital.
She was born in the Town of Lewis on March 25, 1925 a daughter of Paul and Otilla Stinebrickner Seelman. She grew up on the Fish Creek Road on the family farm and graduated from West Leyden High School in 1941. She married Stanley H. Smith in 1944 and the couple operated the family farm on the Fish Creek Road. Stanley died in March of 1975. She married Glenn Walker August 11, 1979 and was employed at the Rome Agway for several years. She was a member of St. Joseph's Church, Lee Center and past member of Lee Unity Senior Citizens. She enjoyed bowling, dancing, sewing, gardening, canning, collecting dolls, scrapbooking and the highlight of her life was traveling to Alaska with her husband in 1985.
Surviving are her husband, Glenn; one son and daughter-in-law, Ronald and Patricia Smith, Mission Viejo, Ca.; step son, Dennis and Linda Walker, Rome; step daughter, Jane Rumble, Lee Center; son-in-law, Albert Backer, Boonville; one sister, Shirley Urtz, Yorktown, Va.; eight grandchildren; three step grandchildren; sixteen great grandchildren and four step great grandchildren. She was predeceased by a daughter, Lucille Backer in 2007 and a step son-in-law, Michael Rumble and two sisters.
A Mass of Christian burial will be held on Wednesday, February 19, 2014 at 9 a.m. at St. Joseph's Church, Lee Center. Calling hours will be on Tuesday from 1-4 p.m. at Barry Funeral Home, 807 W. Chestnut Street, Rome. Spring burial will be in St Michael's Cemetery, Mohawk Hill. In lieu memorial contributions may be made to St. Joseph's Church, Lee Center.
For an online message of sympathy go to www.millsfuneralhomes.com
Details
September 10, 1927 to February 16, 2014
Otter Lake_ Gloria F. (Wenham) Norton, a long time resident of Frog Pond Lane, widow of John B. passed away on Sunday, February 16, 2014, at St. Elizabeth's Medical Center, Utica, after a brief illness.
She was born in Utica on September 10, 1927, a daughter of Herman and Johanna Miller Wenham. Gloria grew up in Utica where she was educated in local schools, before her graduation with the Class of 1944, from St. Frances DeSales High School in Utica. In 1925, her parents constructed a camp on Otter Lake, and Gloria spent her summers there from 1928, until her marriage on June 2, 1956 with John B. (Buzz) Norton at St. Mary of the Snows Church, Otter Lake. Mr. Norton died on April 25, 1998. For many years Mrs. Norton was employed as a partner with John's sister, Marlene in the operation of Standard Supply Co. of Otter Lake, a wholesale and retail merchandise business which was founded in 1914, by Gloria's husband's father, John A. Norton. In the later years of the store operation, she and her son John were partners in the store operation, which they sold in 2002. After her retirement from Standard Supply; for twelve years, Mrs. Norton was also employed in the gift shop at the Adirondack Scenic Railroad at Thendara Station. Gloria was a member of St. Mary of the Snows Catholic Church, Otter Lake, where she served faithfully as a Lector and Eucharistic Minister; for a time she was a church trustee. She was also member of the Otter Lake Fire Department Ladies Auxiliary. The love of her life was her family, and she also greatly enjoyed cooking, knitting, crocheting and was an avid reader. Gloria will be affectionately remembered as a "lifelong Angel of the community of Otter Lake."
She is survived by three sons: John G., Otter Lake, Douglas and his wife, Debbie, Sanbornton, N.H., Donald and wife Vanessa, Woodgate; three daughters, Carol and husband, Bill Wenzel, East Greenbush, NY., Jackie and husband Bob Kawa, New Berlin, NY., Joanne and her fiancé Keith Grygiel, Holland Patent, thirteen grandchildren, and two great grandchildren.
Gloria's family expresses a heartfelt note of thanks and appreciation to both the Otter Lake Fire Department and Old Forge Ambulance, the staffs of the St. Elizabeth's Medical Center, Utica, Emergency Room, and I.C.U. and a special note of appreciation to Dr. Oleg Dulkin, for the kind and compassionate care they all rendered to Gloria.
A prayer service will be on Thursday at 9:45 A.M. at Trainor Funeral Home, Inc. 143 Schuyler St. Boonville, with a Mass of Christian Burial at 11:00 A.M. at St. Mary of the Snows Church of Otter Lake, where Rev. Donald H. Karlen, will officiate. Interment will be in Boonville Cemetery, in the spring. Calling hours Wednesday 1-4 & 6-9 p.m. at the funeral home. In lieu of flowers, memorial contributions may be made to St. Mary of the Snows Church of Otter Lake, in the form of Mass cards, for Masses to be said in Gloria's memory, at St. Mary of the Snows Church, or to Christ Our Hope Catholic Parish, (for St. Mary of the Snows Church) c/o Parish Office at108 Charles St. Boonville, NY, 13309, the Otter Lake Fire Department 13853 State Rt. 28, Otter Lake, NY 13338, or to the Adirondack Scenic Railroad, 321 Main St. Union Station, Utica, NY 13501. All are invited to attend a luncheon that will follow her Mass of Christian Burial at the Otter Lake Fire Department.
- See more at: http://www.trainorfuneralhome.com/obituary/Gloria-F-Norton/Otter-Lake-NY/1345056#sthash.XQnEamYF.dpuf
Details
July 22, 1933 to February 13, 2014
Pennysettlement- Genevieve N. Covey, 80, affectionately known as Jenny, passed away peacefully at her residence on Pennysettlement Road, on Thursday, February 13, 2014, while surrounded by the care of William, her loving husband of 61 years, her children, family, caregivers and Hospice.
Jenny was born on July 22, 1933, in the hamlet of Pennysettlement, a daughter of Francis and Vaughn Dean Villiere. She grew up in Pennysettlement, attending a rural school, before graduating from Port Leyden Central School, with the Class of 1951. In 1951, while on her high school senior class trip to New York City, Jenny met William Covey, the love of her life, who at the time was stationed in New York, while serving in the U.S. Navy. On April 12, 1952, Jenny was united in marriage with William J. Covey at the bride's home on the Pennysettlement Road. Later the couple moved to their present home where they have since lived. For 34 years, Mrs. Covey was employed the head house keeper, for her dear friend, Katherine Glover Findlay, at the Adirondack League Club of Old Forge. She was also employed as a waitress for the Yauger family for many years at Slims Restaurant in downtown Boonville. She enjoyed working on cross word puzzles, playing Bingo, going on shopping trips during snow storms, and she took delight in keeping her children and grandchildren busy with sewing and crafts. Love for her husband, Bill, and her children, grandchildren and great grandchildren were at the center of Jenny's life.
She is survived by her husband, Bill; two sons, Reid and Melissa, Constableville, Dan and Vicki, Port Leyden; four daughters, Deb and Tom Morley, Laurie Niemeier and Van Planck, all of Port Leyden, Rosemary and Bob Healt, Boonville and Lisa and Bill Fayle, Greig, 21 grandchildren and their wives and husbands, and 25 great grandchildren. She is also survived by her best friends, Nina Kwasniewski, and Katherine Marmon, four sisters in law, Mabel Bauer, Sharon Villiere, Lucille Covey and Marge Covey; and nieces, nephews and cousins. She was predeceased by a granddaughter Jessica Niemeier, in 1980, her sister Geraldine Lawrence Smith and her brother Francis Villiere.
Her Funeral will be on Monday at 2:00 P.M. at Trainor Funeral Home, Inc. 143 Schuyler St. Boonville, with interment in the spring in Pennysettlement Cemetery. Calling hours are Sunday 1-5 P.M. at Monday from 12 Noon until 2 P.M. at the funeral home.
Memorial contributions may be made to Port Leyden Fire Co. Ambulance, or to Friends of Lewis Co. Hospice, Inc. P.O. Box 266, Lowville, NY 13367. Following the services, all in attendance are invited to attend a luncheon at the Port Leyden Fire Hall. -
See more at: http://www.trainorfuneralhome.com/obituary/Genevieve-N.-Covey/Pennysettlement-NY/1344207#sthash.JUCEJURI.dpuf
We accept obituaries from Funeral Homes only. If you would like to have an obituary aired on The Moose and on this website, please tell the funeral director to e-mail or fax (315-376-8549) the obituary to us. The Funeral Director will be charged for any and all obituaries aired on The Moose and on this website. Obituaries are changed according to their length. The entire obituary will be aired during Today In the North Country (8:25AM, Mondays through Saturdays) the first day. A shorter version will air each day prior to the funeral.
Sorry, we do not accept any obituary announcements from anyone other than a funeral home. All obituary announcements received will run on WBRV-FM in Boonville, WLLG-FM in Lowville and on this website. Thank you for your cooperation.