Details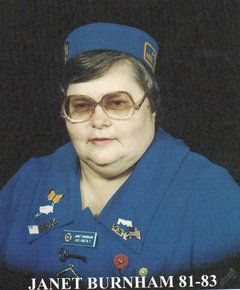 October 31, 1936 to March 29, 2014
LOWVILLE- Janet M. Burnham, 77, died Friday morning, March 21, 2014, at the Lewis County Residential Healthcare Facility.
The funeral will be Saturday, March 29, 2014 at 10:30 a.m. at Iseneker Funeral Home, Inc., Lowville, with Rev. Everett F. Reed and Rev. Keith W. Hardy, Pastor of Bethel Church of the Nazarene officiating. Spring burial will be in Brantingham Cemetery. A gathering at Lowville VFW post #6912, 7752 West State Street, will follow the funeral service.
Calling hours are Friday, March 28, 2014 from 2 – 4 and 7 - 9p.m. at the funeral home. Contributions may be made to Lewis County Memorial Post #6912, 7752 West State Street, Lowville, NY 13367 or Lowville Baptist Church, P.O. Box 89, Lowville, NY 13367.
She is survived by two sons from a previous marriage, Mark Schulz and his wife, Linnea, of Clifton, Colorado; Scott Schulz and his wife, Nancy, of Lowville; two step sons and daughters-in-law, Robert and Julia Burnham of Hollister, CA; Roger and Mary Burnham of Tucson, AZ; two step daughters, Sharon Chauncey of Albany, GA; Janet Silveria of San Diego, CA; a sister-in-law, Berneda Farney of Lowville; 14 grandchildren, 12 great-grandchildren, nieces, nephews and cousins. She is predeceased by her husband, Stewart G. Burnham, who died August 23, 2008; and three brothers, Paul Farney, Wilbur R. Farney, Herbert H. Farney, twin sisters, Betty and Bessie Farney.
Janet was born on October 31, 1936 at Idle Ease in Croghan, NY, a daughter of the late Webster P. and Alvena Farney. She moved to Lowville with her family at the age of seven, and graduated from Lowville Academy in 1954. Janet was a housekeeper for her brother Wilbur Farney and his family for three years, and did domestic work in the Lowville area. On February 11, 1977, she married Stewart G. Burnham at Lowville Methodist Church. Mrs. Burnham worked for Lowville Academy in the cafeteria for over 20 years, retiring in 1998. Mrs. Burnham was a member of Lowville Baptist Church. She was a life member of Lewis County Memorial Post #6912 Auxiliary, serving multiple terms as President. She was Past President of the Mohawk Valley Council, Veterans of Foreign Wars Auxiliary, and Past President of District #4, Veterans of Foreign Wars Auxiliary and President of the year. She was a member of Beaver River Memorial Post #1663, Croghan American Legion. Janet enjoyed cooking and baking, and spending time with her children and grandchildren. Janet had been a resident of the Lewis County Residential Healthcare Facility since 2005, and was well loved by all. She was fondly known as "The Mayor" of the third floor.
Condolences may be shared with the family at www.isenekerfuneralhome.com
Details
August 13, 1961 to March 19, 2014
Buford, GA- Diane Marilyn Rava 52, passed away on Wednesday March 19, 2014, at the home of her sister, Deborah Hopps, in Round Rock Texas, surrounded by her loving family after a heroic battle with cancer.
Diane was born in Constableville, NY, on August 13, 1961, a daughter of Edward M. and Charlotte C. Ziankoski Rava. She grew up on the Rava Homestead farm near Boonville, NY, and graduated from South Lewis Central High School, Turin, NY, with the Class of 1979. Thereafter she continued her education at Jefferson Community College and then Utica College, where she studied White Collar Crime. Diane graduated Cum Laude from St. Leo University, St. Leo, Fla, where she earned her bachelor's degree in Criminal Justice in 2011.
She moved to Buford, Georgia in 1983 where she met Bruce Potts. They married on December 31, 1990.
On July 29, 1985, Diane was accepted into the DeKalb County Police Academy, and graduated in November, 1985. She had a very distinguished career with the DeKalb County Police Department and received over 30 commendations in 30 years. In 1985 she started her career as a member of the Uniform Division Patrol. From 1989 to 2003 she was a Burglary Detective in the Criminal Investigation Division and received Top Honors as Detective of the Year in 1998 and 1999. In 2003 she cleared 119 cases as a detective and recovered $166, 531 worth of stolen property. In 2003 she was promoted to the rank of Sergeant and worked Uniform Division, Patrol & was a member of the Training Review Board. In 2005 she was assigned to the Program Operations Division which supported the District Attorney and Solicitor General's Office. In 2006 Diane was assigned to the Office of the Director of Public Safety/Communications and served as Acting Commander of the 911 Communications Center, where she was responsible for the $23 million Digital Radio System upgrade for the DeKalb County Police and Fire Department. From 2010-2013, she served in the Investigations and Support Services Division as Supervisor over all county business permits to include taxi and wrecker services. Diane qualified with a 90% or higher with her departmental issued weapon twice a year since she joined the department.
Diane stated frequently how much she loved her job. She described herself as "black and white, direct, and always doing the right thing". She was extremely honest, you could have a conversation with Diane - and knew it would absolutely remain private, period.
Diane loved her nieces and nephews and great nieces and nephews; they were a very important part of her life. There were times where she knew things before their parents!
Diane had an uncanny knack for delivering every story she told with every detail from start to finish. You would be wanting to tell her…alright already just tell me what happened! There was nothing that she loved more than an interesting conversation with a good friend. Diane could have an engaging conversation with anyone.
Diane loved animals and especially "her chows". She was a member and past president of the Chow Chow Fanciers of Atlanta, GA.
Diane grew up in a home where the love of God was strong. She was an active member and greatly enjoyed attending Mary Our Queen Catholic Church, Norcross, GA,
Diane enjoyed shopping, baking, traveling and working in her flower and vegetable gardens.
In addition to her husband, Bruce, of Buford, Diane is survived by sisters Deborah Hopps and husband Rick, Austin, TX, Denise Hawk and her husband, Pat, Umatilla, FL, Dawn and her husband, Dennis, Boonville, her mother, Charlotte Rava, Boonville; and her special nieces and nephews; and great nieces and nephews. She was predeceased by her father, Edward Rava, on January 22, 2000.
The viewing for Diane with full Police honors will be held in Norcross, Ga. at Crowell Brothers Funeral Home from 5:00pm to 8:00pm on Monday, March 24, 2014. Church services with Police honors will be celebrated at Mary our Queen Catholic Church March 25, 2014 at 2:30pm. Viewing in Boonville, NY will be held at the Trainor Funeral Home 143 Schuyler St. from 5:00pm to 8:00pm on March 27, 2014. Funeral mass will be celebrated at St. Joseph's Catholic Church, March 28, 2014 at 10:00am with interment at St. Joseph's cemetery in the spring.
In lieu of flowers, memorial contributions may be made to Mary our Queen Catholic Church, 6260 The Corners Pkwy NW, Norcross, GA 30092 or St Joseph's Catholic Church, 110 Charles St, Boonville, NY 13309.
For an on-line message of sympathy, please go to www.trainorfuneralhome.com
- See more at: http://www.trainorfuneralhome.com/obituary/Diane-Marilyn-Rava/Buford-GA/1363502#sthash.PaNxY2mH.dpuf
Details
May 22, 1919 to Marc 13, 2014
Ava- Stanley F. Backer, 94, of the East Ava Road passed away peacefully surrounded by his family on March 13, 2014 at Rome Memorial Hospital.
He was born in Ava, NY on May 22, 1919 a son of Horace and Hattie Fox Backer. He grew up on the family farm and married Charlotte (Lottie) Lisowski on September 14, 1940 in Rome. She died March 28, 2009. The couple operated the family farm until retiring in 1986. Stanley enjoyed the Boston Red Sox, playing pitch, rides in the country and building electronics.
Stanley's family would like to thank the RHCF at Rome Hospital for the wonderful care especially Nana, Crystal, Kathy, Sharon and Amanda; also the ICU especially, Brittany, Audrey, Lacey and Brenda. A special thank-you to his granddaughter Stephanie Como for all the wonderful care shown.
Surviving are two sons and daughter-in-law, Horace "Babe" and Carol Backer, Ava and Albert Backer, Boonville; four daughters and sons-in-law, Brenda and Dick Witzigman, Ava, Linda Underwood, Rome, Shirley Hunt, Camden and Lorraine and Steve Gardinier, Rome; two brothers and sisters-in-law, Warren and Marie Backer and Gilbert and Ann Owens, all of Ava; two sisters, Janette Malone, Ava and Doris Spinelli, Rome; fifteen grandchildren, a special grandson, Jon Backer, 26 great grandchildren and one great great granddaughter. Stanley was predeceased by a daughter-in-law, Lucille Backer, a son-in-law Brian Underwood, a brother-in-law, Pat Malone and three brothers, Willard, Raymond and Douglas.
A funeral service will be held on Sunday, March 16, 2014 at 4 p.m. at Mills Funeral Home, 301 Post St., Boonville with Pastor Matt Ripp officiating. Calling hours will be held Sunday prior to the service from 1-4 p.m. Burial in the spring at Ava Cemetery. Contributions may be made to the West Leyden Fire Department.
For an online message of sympathy go to www.millsfuneralhomes.com.
"I'm just a farmer."
Details
January 21, 1947 to March 17, 2014
Talcottville- Ronald L. Johnson, 67, of Route 12D passed away on March 17, 2014 at his home under the care of his wife, Laura and Lewis County Hospice.
He was born in Boonville, January 21, 1947 a son of Howard and Charlotte Drexel Johnson. He grew up on the East Road on the family farm and attended Boonville Schools. He first worked at Brant Excelsior, Hawkinsville and then Sargents Chair Factory. He married Sandra Rogers that ended in divorce. He later married Dorothy Young that also ended in divorce. He drove log trucks for G&N Lumber in Port Leyden and then for several years was employed at Revere Copper & Brass in Rome. He then went back to driving truck for Thibidue Trucking, Foley Lumber and Murdock Trucking. He was last employed with Virkler Concrete at the Boonville plant. He married Laura Zimmer on August 20, 2005. Ronald enjoyed making lawn furniture, working in the woods, helping people, playing poker, cruising in "Corey Corvette". His "off the wall sayings" will be greatly missed by his family.
Surviving are his wife, Laura; mother, Charlotte, Boonville; three sons and two daughters-in-law, Ronald Jr. and Annette Johnson, Camden, Richard and Melanie Johnson, Lyons Falls and Robert Johnson, Camden; one daughter and son-in-law, Theresa and Brian Perry, Rome; four step children, Kenny and Cheryl Young, Ralph Young and Darlene Mineo, all of Boonville and Arena Beaver, Vernon; three brothers, Larry Johnson, Lyons Falls, Clyde Johnson, Port Leyden and Tim Johnson, Boonville; many grandchildren and great grandchildren; brothers-in-law and sisters-in-law, Linda and Charles Earl, Port Leyden, John and Darla Zimmer, Blossvale, Richard and Jonnie Zimmer, Boonville, David Zimmer, Boonville, Robert and Cherene Lisowski, Boonville and his beloved pet dog, Bubba and cat, Sassy. He was predeceased by his father, Howard in October 1993.
Calling hours will be held on Wednesday (today) March 19, 2014 from 2-4 p.m. only at Mills Funeral Home, 301 Post Street, Boonville. In lieu of flowers donations can be made to Friends of Lewis County Hospice,INC., P.O. Box 266, Lowville, NY 13367.
For an online message of sympathy go to www.millsfuneralhomes.com
Details
April 6, 1930 to March 12, 2014
Boonville- Iva (Millard) Croniser, 83, formerly of State Rt. 294, widow of Carl, passed away on Wednesday, March 12, 2014, at Lewis County Extended Care Facility, Lowville, where she had resided since 2011.
She was born on April 6, 1930, in Lowville, a daughter of Rutson J. and Emogene H. Petrie Millard. Iva grew up near Boonville and in Lewis and Jefferson Counties, completing her education in Turin. Mrs. Croniser was a devoted wife and mother. On May 25, 1946, Iva was united in marriage with the love of her life, Carl A. Croniser, at the Boonville United Methodist Church. This marriage was a blessed union that endured for over 58 years until Carl died on December 13, 2004. In 1955, the couple moved to a dairy farm on the West Leyden Road, near Boonville, which they operated until 1988, when they sold their dairy cows. After retiring from farming, she was employed at Lee Pontiac and Buick Agency in Boonville. Iva will be fondly remembered for the ways in which she cherished the gifts of life and her family. For many years she was a member of Christian and Missionary Alliance Church, Boonville, where she served as church treasurer and deaconess. Later she also attended the Rome Christian and Missionary Alliance Church. She lived her life with faith in her Savior, Jesus Christ. Above all she enjoyed the time spent with her family, as well as cooking, baking, crocheting and gardening. She loved the Christmas Season and the hope that Jesus brings us.
Iva is survived by four sons and daughters-in-law, Ronald and Carol Croniser, Dennis and Janice Croniser, all of Boonville, Gary and Darlene Croniser, Lyons Falls, Carl Croniser and Amy, Delanson; one daughter, Donna M. Croniser, Toledo, OH, nine grandchildren; Melissa Diana and husband Joseph, Amy Clemons and husband Jimi, Susan Merriam and husband, Shamus, Aaron Croniser, Donald Croniser and wife Jodi, Gary Croniser II and wife, Rebecca, Jennifer Stackhouse and husband, Pat, Ryan Croniser and wife, Kara, Caleb Croniser, fourteen great grandchildren; one sister and brother-in-law, Gladys and Richard Lee, Boonville; two sisters-in-law, Adeline Croniser, West Leyden, and Helen Sylvester, Olmsteadville. She was predeceased by two sisters, Beatrice Kent and Elizabeth Dowling, and by two brothers, Theodore Millard and Kenneth Millard.
Funeral services will begin at 4 p.m. on Saturday, March 15, at the Boonville Alliance Church, at the corner of State Route 12 and Potato Hill Road, where calling hours will be held from 1 p.m. until the time of the service. Memorial contributions may be made to The Great Commission Fund of the Christian and Missionary Alliance P.O. Box 35000 Colorado Springs CO 80935. Her arrangements have been entrusted to the Trainor Funeral Home, Inc. 143 Schuyler St. Boonville.
- See more at: http://www.trainorfuneralhome.com/obituary/Iva-M.-Croniser/Boonville-NY/1357327#sthash.muQeDLV4.dpuf
We accept obituaries from Funeral Homes only. If you would like to have an obituary aired on The Moose and on this website, please tell the funeral director to e-mail or fax (315-376-8549) the obituary to us. The Funeral Director will be charged for any and all obituaries aired on The Moose and on this website. Obituaries are changed according to their length. The entire obituary will be aired during Today In the North Country (8:25AM, Mondays through Saturdays) the first day. A shorter version will air each day prior to the funeral.
Sorry, we do not accept any obituary announcements from anyone other than a funeral home. All obituary announcements received will run on WBRV-FM in Boonville, WLLG-FM in Lowville and on this website. Thank you for your cooperation.