Details
April 29, 1926 to April 19, 2015
GLENFIELD – Robert L. "Bob" Evans, 88, died late Sunday evening, April 19, 2015 at the Lewis County Residential Health Care Facility.
Mr. Evans was born April 29, 1926, in Rochester, NY to the late Arthur Deveraux and Helen Marje DeVinney Evans. After graduating from Madison High School, Bob enlisted in the Army Air Corps during WWII flying in a B-29 as a tail gunner. Upon returning stateside, Bob graduated from NYS Ranger School in Wanakeena and received a BS from Syracuse University in Environmental Science. He was first employed by the Conservation Department in the Adirondacks where he took charge of the cleanup after a "blow down" and then was given the managerial position at the Lowville Tree Nursery. He retired from the Department of Environmental Conservation NYS Tree Nursery out of Saratoga Springs, NY. In his retirement, Bob began work on his personal tree nursery in Brooklyn Square calling it "Mountain Meadows".
Bob was a talented carpenter who built several log cabins with his children and was a fine woodworker; he was an expert canoeist who took part in at least four of the 90 mile canoe races out of Old Forge. He also instructed the Boy Scouts in canoeing. He was a champion archer in bow tournaments and was part of the group who founded the local Archery Club that practiced year-round in Lowville and at the Lowville Fish & Game Club. Bob also loved to play the harmonica.
Surviving Mr. Evans are his wife Barbara and seven children: Linda M. of Toms River, NJ, Steven A. of Sumner, WA, Arthur D. of Williamstown, MA, JoAnn Evans of Carlise, PA, Thomas W. of Hemet, CA, Mary B. Evans-Walters of Lowville and James R. of Saratoga Springs; his sister Joan M. lavigne of San Diego, CA and fourteen grandchildren and nine great-grandchildren.
A memorial service will be held on Saturday, April 25, 2015, at 2:00 P.M. at Sundquist Funeral Home. Family will receive friends from 1:00 P.M. until the time of the service.
Memorials in Bob's name may be made to the Lewis County Residential Health Care Facility, 7785 N. State Street, Lowville, NY 13367 ATTN: Activities Department.
Bob's family would like to thank the 3rd floor nursing home for their compassionate care given to Bob.
Those who wish may send on-line condolences to www.sundquisthf.com
Details
August 25, 1940 to April 19, 2015
Beloved wife, mother, grandmother, and teacher Elizabeth Glenn (Bruce) Cook died peacefully at her home, surrounded by family, in Lyons Falls, New York on April 19, 2015 due to complications associated with pulmonary fibrosis. www.pulmonaryfibrosis.org
Elizabeth, known to those close to her as Tinkie (Tink) was born on August 25, 1940 at Lewis County General Hospital, first daughter to Woodrow and Betty Bruce. She is survived by her husband Oren F. Cook of Lyons Falls, and her children Catherine Cook-Cottone (husband Jerry Cottone), Cynthia Cook-Ackerman (partner Mark Brown), Patrick G. Cook (wife Melisssa Cook), Anne Cook (husband Jeremy Randall), and Stephen Cook. She is also survived by eleven grandchildren (Chloe and Maya Cottone; Amanda, Amos, Arica, and Adam Ackerman; Arleigha, Hannah, Jaidyn, and Ellie Cook; and Meeghan Markham), five great grandchildren (Haley, Makenna, Lili Bean, Taylor, and Savanna) and her brothers David Bruce (wife Roxy) and Richard Bruce and her sister Penny Markham (husband Scott).
A funeral mass will be held Wednesday, April 22, 2015 at St. Johns Church in Lyons Falls with Rev. Lawrence Murullo officiating. Calling hours will be Tuesday from 4-8 PM at Callaghan Funeral Home LLC in Port Leyden. Burial will be later in the spring in Wildwood Cemetery, Lyons Falls.
In lieu of flowers, donations in Tink's memory can be made to Friends of Lewis County Hospice.
Details
March 23, 1944 - April 18, 2015
Constableville- Everett J. Knoblauch (Knobie), 71, passed away Saturday, April 18, 2015 in his home surrounded by his family after an eight month battle with cancer.
Everett was born in Johnstown, N.Y. on March 23, 1944, the son of Wellington Knoblauch and Philippa Gray. He attended Ephratah Elementary School and then attended Knox Jr. High in Johnstown, N.Y. Everett married Bessie M. Dillenbeck on December 26, 1963. In his early years he was employed at N.Y. Central Railroad in Selkirk, N.Y. as a crane operator. He then went to Dan Franklins Dairy in Nelliston, N.Y. and on to Glen and Mohawk in Fulton, N.Y. as a milk tank driver for ten years. In 1978 Everett and Bessie purchased a dairy farm in Constableville where they raised and enjoyed their family. Everett was a true trucker as later on he went back to independently driving tractor trailer for multiple companies while his family run the farm. After a few years he parked the truck and worked the farm.
Everett (Knobie) was known by all for his love of hunting. He would bring home the "big" buck every year and was always proud. Everett spent much of his hunting with his best friend and cousin Charles Knoblauch, who passed away in 2007 and great friend, Randy Barrows who passed in 2014. He also enjoyed his family and loved to "visit" with all.
Everett is survived by his wife, Bessie and their three children; Kim (Clifford) Hrim, Kenneth (Karen) Knoblauch and Dennis (BilllieJo) Knoblauch, all of Constableville; seven grandchildren and four great grandchildren, who he loved with all his heart. He is also survived by his stepmother, Emma Knoblauch, Fort Plain; three sisters, Pandy Coso, Fay (John) Flanders and Robin Knoblauch; four brothers, Bill (Brenda) Gray, Steve (Sara) Gray, Allen Knoblauch and John Knoblauch; his mother-in-law, Armetta Dillenbeck; a "favorite" sister-in-law, Rebecca (Mike) DeSimone along with five brothers-in-law, cousins, nieces and nephews. Everett is predeceased by his parents, a brother-in-law, John Dillenbeck in 1982 and his father-in-law, Harland Dillenbeck in 2011.
Everett's funeral service will be held on Tuesday, April 21, 2015 at 12 p.m. at Mills Funeral Home, 301 Post Street, Boonville. Calling hours will be held 10-12 p.m. prior to the service. Memorial contributions can be made to the American Cancer Society or Lewis County Hospice. A gathering will be held at the Boonville V.F.W. after the funeral and food may be dropped off after 10am Tuesday.
For an online message of sympathy please go to www.millsfuneralhomes.com
Details
November 21, 1944 to April 18, 2015
Sandra Leah Schoff, 70, of West Branch, passed away on April 18, 2015 at University Hospital.
Sandy was born in Rome, NY on November 21, 1944, a daughter of Harry and Rose Stosal Vernold. Sandy is survived by her husband John, her father Harry Vernold, West Branch; three sons and two daughters-in-law, Timothy and Kris Schoff, Lee Center, Patrick Schoff, Apopka, FL, Christopher and Joanna Schoff, Victor, NY; one brother David Vernold, West Branch; cherished grandchildren, Halie, Tyler, Avery, Jordan and Hayden; two very special nieces, Tonia Vernold, Taberg, and Lisa Carpenter, West Branch; close cousins Cookie Lynn Sommers, West Branch, and Renee Charbonneau, Albany, and a brother-in-law Kenny Schoff, Roanoke VA. Sandy was pre-deceased by an infant son William Schoff and her mother Rose Vernold.
Funeral service will be held on Wednesday April 22, 2015 at 10 AM. Strong Burns & Sprock Funeral Home 401 North George Street, Rome. Family and friends are invited to attend calling hours on Tuesday from 4-8 PM at the funeral home.
Details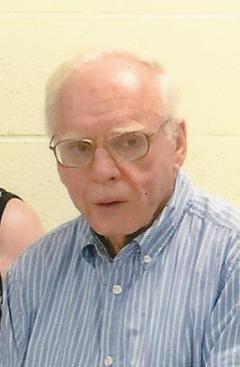 November 6, 1936 to April 17, 2015
GLENFIELD – Robert J. Davis, 78, of Blue Street, Glenfield, died Friday afternoon, April 17, 2015 at Lewis County General Hospital.
The funeral will be at 1:00 p.m. on Tuesday, April 21, 2015 at Iseneker Funeral Home, Inc., Lowville with Rev. Roger Croat, officiating, assisted by Rev. Bruce W. Chapman. Calling hours are from 11:00 a.m. -1:00 p.m. on Tuesday, prior to the funeral service at the funeral home. Burial with Military Honors will be in the Turin Cemetery. A luncheon at the Lowville VFW will immediately follow the burial. Any food donations may be taken to the Lowville VFW on Tuesday morning after 10:00 a.m. Contributions may be made to Glenfield United Methodist Church, Widmeyer St., Glenfield, NY 13343; or to 3-G Fire Department, P.O. Box 112, Glenfield, NY 13343.
He is survived by two brothers, David Davis of Boonville; and Clarence and Jean Davis of Glenfield; two sisters, Inez Briggs of Sandy Creek and Gladys Howard of Port Leyden; a sister-in-law, Joan Davis of Lowville; a special cousin, Carol Norris; several nieces, nephews and cousins. He is predeceased by two sisters, Alma Davis, who died at age 15, and Laura Korilla Davis, who died in infancy; four brothers and their wives, Ray & Evelyn, Herbert & Alma, Leonard & Inez and Lansing Davis. He is also predeceased by a sister-in-law, Chris Davis.
Robert was born on November 6, 1936 in Lyons Falls, NY, a son of the late James and Korilla VanAlstine Davis. He graduated General Martin High School in 1956. He joined the Army Reserves while in high school, and served from 1957 until being honorably discharged in 1959. Robert did farm work while in school, and worked for Elwin Rowell in Glenfield before going to work for Hall's Ski Lift at Burdick's Crossing. Mr. Davis continued to work with the company when they moved to Watertown in the early 1960's, and retired from American Tramways of Watertown in 2002.
In his younger years, he enjoyed hunting, fishing, and wood carving. In his youth he was a boy scout. Mr. Davis enjoyed embroidery, flower and vegetable gardening.
Condolences may be made online at www.isenekerfuneralhome.com
We accept obituaries from Funeral Homes only. If you would like to have an obituary aired on The Moose and on this website, please tell the funeral director to e-mail or fax (315-376-8549) the obituary to us. The Funeral Director will be charged for any and all obituaries aired on The Moose and on this website. Obituaries are changed according to their length. The entire obituary will be aired during Today In the North Country (8:25AM, Mondays through Saturdays) the first day. A shorter version will air each day prior to the funeral.
Sorry, we do not accept any obituary announcements from anyone other than a funeral home. All obituary announcements received will run on WBRV-FM in Boonville, WLLG-FM in Lowville and on this website. Thank you for your cooperation.