Details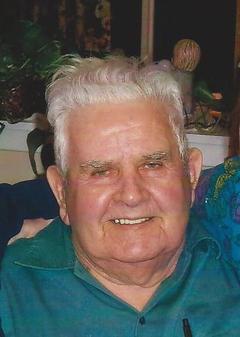 November 11, 1925 to December 4, 2014
LOWVILLE - Ralph J. Drelick, Sr. 89, of Division Street, Lowville, died Thursday, December 4, 2014 at Lewis County General Hospital.
The funeral will be at 11:00 a.m. on Monday, December 8, 2014 at Bethel Church of the Nazarene, Lowville, with Rev. Keith W. Hardy, Jr., Pastor officiating. Burial will follow in West Lowville Rural Cemetery. Calling hours are from 2 – 4 & 6 – 8 p.m. on Sunday, December 7, 2014 at Iseneker Funeral Home, Inc., Lowville. Contributions may be made to Friends of Lewis County Hospice, P.O. Box 266, Lowville, NY 13367; or to the American Heart Association, 120 Lomond Court, Utica, NY 13502.
He is survived by ten children, Larry and Donna Drelick of Lowville; Frederick "Fred" Drelick of Lowville; Linda and Cal Fredenburg of Albion, NY; Julie and Dale Kloster of Lowville; Gloria Boucher-Church of Lowville; Patricia "Patty" and David Norton of Carthage; Ralph Drelick, Jr. of Toms River, New Jersey; Cindy and Joe Percoski of Carthage; Katrina Drelick and her companion, Dick Walker of Carthage; Brenda and Arthur Pellerin of Carthage; his inseparable companion of four years, Pat Paddock; two brothers, Robert and Ardith Drelick of Macedon, NY; Leonard Drelick and his companion, Audrey Misercola of Watertown; 35 grandchildren, several great-grandchildren, great-great grandchildren, nieces, nephews and cousins. He is predeceased by his wife of 62 years, Martha Mae Beyer Drelick; a daughter, Joyce M. Kloster, who died on November 2, 2008, three grandsons, Jeffery D. Kloster, who died shortly after birth in 1968, Joseph J. Kloster, who died in September 1984, and Danny A. Kloster, who died in May 1987; two brothers, Arthur and Walter Drelick; and a sister, Evelyn Morse.

Mr. Drelick was born on November 11, 1925 at home in Lyons Falls, NY, a son of the late John S. and Ethel J. Bickford Drelick. He attended country school on Route 12 in Lowville and Lowville Academy. Mr. Drelick worked on the family farm and was a logger. On August 31, 1947, he married Martha Mae Beyer at St. Peter's Catholic Church, Lowville. Mrs. Drelick died April 26, 2010. Together with his wife, the couple owned and operated a dairy farm on the Rector Road, and then bought a farm on the Number Three Road in the fall of 1954, and operated it until 1977. They both built a home and moved back to the Rector Road, where they resided for many years, moving to Division Street in Lowville in the fall of 2008. During his farming career, he also hauled milk and did custom fieldwork for area farmers. He was a life-long maple syrup producer.
Mr. Drelick was a member of Bethel Church of the Nazarene, where he served as a past deacon and board member. He was active with tractor pulls at the Lewis County Fair and he enjoyed mowing lawn for the radio tower and the Nazarene Church.
Ralph enjoyed traveling with Pat to Long Island in the Bahamas, Simcoe Island in Canada, and most recently Paradise Camper in Old Town, Florida.
Above all else, Ralph loved his family and was a loving and devoted husband, father, grandfather, great grandfather, great-great grandfather and brother. He loved family gatherings, tractor, fly wheel and pulley shows, and camping at bluegrass festivals. If it was broken, Ralph could fix it.
Condolences may be made online at www.isenekerfuneralhome.com
Details
December 4, 1925 to November 30, 2014
LOWVILLE – Jane Gould Allen, 88, of Brookside Circle, passed away Sunday afternoon, November 30, 2014, at Lewis County General Hospital.
A funeral service will be held Thursday, December 4, 2014 at 11:00 a.m. at Forest Presbyterian Church, Lyons Falls with Rev. Naomi Kelly, Pastor, officiating. Burial will be in Brantingham Cemetery following a brief reception at the church. Calling hours will be held from 3 – 6 p.m. on Wednesday, December 3, 2014 at Iseneker Funeral Home, Inc., Lowville. In lieu of flowers, memorials may be made to Lewis County Hospital Foundation, for the purpose of new breast imaging equipment, 7785 N. State Street, Lowville, NY 13367.
She is survived by her husband of 68 years, Harold; her children, Marcia A. and Joseph Owen of Brooklyn; Mary A. and John Dixon of Gouverneur; Stephen H. and Jill Allen of Lowville; her grandchildren, J. Robert Owen, Katherine Owen, Elizabeth Dixon, Christopher Dixon, and Kayla Allen; her sisters, Mary Lua Gould Markham of Brantingham and Utica; Nancy Gould Carr and Dr. Ronald Carr of New York City; nieces, nephews and cousins. Mrs. Allen was predeceased by a daughter, Carol G. Allen who died in August 2009; two brothers, Gene (Nick) Gould and H. Peter Gould.
Jane was born on December 4, 1925 in Lyons Falls, N.Y., a daughter of the late Gordon H.P. Gould and Helen Bowman Gould. She attended Lyons Falls High School, and graduated from the Knox School. Jane attended Skidmore College. She married Harold C. Allen on September 29, 1946 in Johnstown, N.Y. The couple lived in Lyons Falls on the family farm, and upon retirement to Snugsboro Road. They later resided at Brantingham and Brookside in Lowville. Mrs. Allen was the President of Lyons Falls National Bank, and served on the Board of Directors.
Mrs. Allen was a member of Forest Presbyterian Church, where she was an elder, and a member of the Forest Presbyterian Church Women's Association. She served for many years on the Board of Visitors, Central N.Y. Disabilities Services Office, and the South Lewis Central School Board. Mrs. Allen was President of the Lewis County Historical Society, a Board Member of the Lyons Falls History Association, and a member of Lyons Falls Alive. She served as a Republican State Committeewoman.
Mrs. Allen enjoyed music and playing the piano. She enjoyed playing mahjong, bridge, dominoes and euchre with her many friends.
Condolences may be shared at www.isenekerfuneralhome.com
Details
May 11, 1955 - November 21, 2014
Caroga Lake- Donna M. Denslow, 59, passed away suddenly on November 21, 2014. She was born on May 11, 1955 in Utica. She was the daughter of Donald and Marie Aluza Callahan of Whitesboro, NY.
Donna had a passion for crafting, Stephen King novels, and animals. She particularly loved her dogs, Casey and Oley. She raised poodles for many years.
She is survived by her husband, Thomas Denslow, her children: Eric Hahn, Amanda Denlsow, William Denslow, and Sabrina Dettmer, her stepdaughters, Dawn Croniser, Michelle Kieffer, and Danielle Denslow; her grandchildren: Aaron, Angela, and Brody; one brother Daniel Callahan, and his children Stacey, Erica, Sean, MaRissa , and Donald; and her caring friend, Brian Smith. She was predeceased by her parents, Donald and Marie Callahan, and her sister Dolores Callahan.
Services will be held on Saturday, November 29, 2014, at 1:00 pm at the Trainor Funeral Home, Inc. 143 Schuyler St. Boonville. Calling hours will be held from 11:00 am until the time of the service. Memorial contributions may be made to the Stevens-Swan Humane Society, 5664 Horatio Street, Utica, New York 13502.
- See more at: http://www.trainorfuneralhome.com/obituary/Donna-M.-Denslow/Caroga-Lake-NY/1455375#sthash.0gtharlF.dpuf
Details
December 14, 1950 to November 26, 2014
Dolgeville- Carole A. (Robinson) Mamrosh, 63, of Dolge Ave. a former resident of Church St., Boonville and wife of Michael G., passed away, while surrounded by the loving care of her family, after a brief illness on Wednesday, November 26, 2014, at St. Elizabeth's Medical Center, Utica.
She was born in Little Falls, on December 14, 1950, a daughter of Roger and Eleanor Hughes Robinson. She grew up in the Town of Fairfield, and graduated from West Canada Valley High School, with the Class of 1968. Thereafter she attended Automation Institute of Utica, where she received an Associate's Degree in Computer Programming.
On January 23, 1971, Carole was united in marriage with Michael G. Mamrosh at Salisbury Center Assembly of God Church. In 1977, the couple moved to Boonville, where they raised their family. While in Boonville, Mrs. Mamrosh was employed as manager of Victory Video in the Great American, later she founded and was proprietor of Cherry Tree Children clothing store on Main St. For several years she was employed as front end manager of Boonville Big M. Her husband Mike was employed in several positions for Boonville Division of Ethan Allen Furniture Co. leaving the company as Plant Operations Manager. In 2003, the couple moved to Dolgeville, however, Carole and Mike always expressed that "Boonville was their beloved and true home." Her last employment was at Jim's Tax Service of Little Falls, as a tax preparer, retiring in 2011. While living in Boonville, Carole was a member of the First Presbyterian Church, and was a volunteer for the New York State Woodsmen's Field Days in Boonville each summer. She was a supporter of the Stevens-Swan Humane Society and Herkimer Co. Humane Society. Carole was a very compassionate person who lovingly expressed that fine trait by quietly giving to those less fortunate. Carole loved her husband, Mike, her children and grandchildren; they were the lights of her life.
In addition to her husband, she is survived by one son, Michael G., Kauai, HI; a daughter, Heather Carbone, Boonville; two grandchildren, Dominick (Trey) and Cecelia; two brothers, Bruce Leach, Las Vegas, NV, and Harold Robinson, Newport; and one sister Sandra (Marvin) Jones, Holland Patent. In addition to her parents, Carole was predeceased by her mother and father in law, Fernabelle and John Mamrosh and by a sister in law, Katherine Leach.
Her Funeral will be Tuesday at 12 Noon at Trainor Funeral Home, Inc. 143 Schuyler St. Boonville, where her family will be present from 10:30 A.M. to greet visitors. Interment will be in Boonville Cemetery. Memorial contributions may be made to either the Steven-Swan Humane Society 5664 Horatio St. Utica, NY 13502, or to Herkimer County Humane Society, 514 NY Rt. 5S, Mohawk, NY 13407.
- See more at: http://www.trainorfuneralhome.com/obituary/Carole-A.-Mamrosh/Dolgeville-NY/1455985#sthash.ErDKhWcU.dpuf
Details
June 26, 1951 to November 23, 2014
John J. Haile, 63, Boonville, passed away peacefully on Sunday, November 23, 2014 at Upstate University Hospital in Syracuse, New York following a brief illness.
John was born on June 26, 1951 in Potsdam, New York, the first of three sons, to John S. and Mary (Roberts) Haile. His early years were spent throughout central and eastern New York State. John graduated from Hendrick Hudson High School in Montrose, NY. He received his nursing degree from Dutchess Community College in Poughkeepsie.
John was an excellent provider for his family. His work as a registered nurse included Marcy Psychiatric Center, Walsh ICF, and Pinefield Children and Youth. He retired from Central New York Psychiatric Center in April 2010 after many years there.
A professed tertiary of the Secular Order of Franciscans, John loved making pilgrimages to shrines and places of worship. These sites brought him much strength and comfort throughout his life. He was a dedicated member of St. Joseph's Roman Catholic Church in Boonville, NY. John was a generous giver to those in need, quietly offering assistance to friends, family and strangers.
Surviving are his wife, Gail (Wood) Haile; his son, Daniel, of Rome, NY and his daughter, Claire, at the College of Saint Rose, Albany; John's brother, Arthur Haile, lives in Knoxville, Tennessee; brother, James T. Haile, lives in Raleigh, North Carolina; niece, Katie (Evans) Kleinhans and nephew James Haile are also in North Carolina. John was delighted at the arrival of his grandniece, Emma Kate Kleinhans earlier this year.
Calling hours will be Wednesday, November 26, 2014 from 2:00-7:00 p.m. at Mills Funeral Home, 301 Post Street, Boonville, NY.
John's Mass of Christian burial will take place Friday, November 28, 2014 at 11:00 a.m. at Christ Our Hope Parish, St Joseph's Church on Charles Street in Boonville with Fr. Donald Karlen officiating who is retired pastor of Christ Our Hope Church. Burial will take place at St. Peters Cemetery in Stillwater, New York (Saratoga County). Memorial gifts may be made to Christ Our Hope.
For an online message of sympathy go to www.millsfuneralhomes.com
We accept obituaries from Funeral Homes only. If you would like to have an obituary aired on The Moose and on this website, please tell the funeral director to e-mail or fax (315-376-8549) the obituary to us. The Funeral Director will be charged for any and all obituaries aired on The Moose and on this website. Obituaries are changed according to their length. The entire obituary will be aired during Today In the North Country (8:25AM, Mondays through Saturdays) the first day. A shorter version will air each day prior to the funeral.
Sorry, we do not accept any obituary announcements from anyone other than a funeral home. All obituary announcements received will run on WBRV-FM in Boonville, WLLG-FM in Lowville and on this website. Thank you for your cooperation.