Details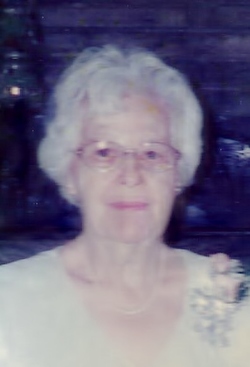 March 26, 1925 to February 14, 2014
Lee Center- Rosemary S. Walker, 88 of Capron Road, passed away February 14, 2014 at Rome Memorial Hospital.
She was born in the Town of Lewis on March 25, 1925 a daughter of Paul and Otilla Stinebrickner Seelman. She grew up on the Fish Creek Road on the family farm and graduated from West Leyden High School in 1941. She married Stanley H. Smith in 1944 and the couple operated the family farm on the Fish Creek Road. Stanley died in March of 1975. She married Glenn Walker August 11, 1979 and was employed at the Rome Agway for several years. She was a member of St. Joseph's Church, Lee Center and past member of Lee Unity Senior Citizens. She enjoyed bowling, dancing, sewing, gardening, canning, collecting dolls, scrapbooking and the highlight of her life was traveling to Alaska with her husband in 1985.
Surviving are her husband, Glenn; one son and daughter-in-law, Ronald and Patricia Smith, Mission Viejo, Ca.; step son, Dennis and Linda Walker, Rome; step daughter, Jane Rumble, Lee Center; son-in-law, Albert Backer, Boonville; one sister, Shirley Urtz, Yorktown, Va.; eight grandchildren; three step grandchildren; sixteen great grandchildren and four step great grandchildren. She was predeceased by a daughter, Lucille Backer in 2007 and a step son-in-law, Michael Rumble and two sisters.
A Mass of Christian burial will be held on Wednesday, February 19, 2014 at 9 a.m. at St. Joseph's Church, Lee Center. Calling hours will be on Tuesday from 1-4 p.m. at Barry Funeral Home, 807 W. Chestnut Street, Rome. Spring burial will be in St Michael's Cemetery, Mohawk Hill. In lieu memorial contributions may be made to St. Joseph's Church, Lee Center.
For an online message of sympathy go to www.millsfuneralhomes.com
Details
July 22, 1933 to February 13, 2014
Pennysettlement- Genevieve N. Covey, 80, affectionately known as Jenny, passed away peacefully at her residence on Pennysettlement Road, on Thursday, February 13, 2014, while surrounded by the care of William, her loving husband of 61 years, her children, family, caregivers and Hospice.
Jenny was born on July 22, 1933, in the hamlet of Pennysettlement, a daughter of Francis and Vaughn Dean Villiere. She grew up in Pennysettlement, attending a rural school, before graduating from Port Leyden Central School, with the Class of 1951. In 1951, while on her high school senior class trip to New York City, Jenny met William Covey, the love of her life, who at the time was stationed in New York, while serving in the U.S. Navy. On April 12, 1952, Jenny was united in marriage with William J. Covey at the bride's home on the Pennysettlement Road. Later the couple moved to their present home where they have since lived. For 34 years, Mrs. Covey was employed the head house keeper, for her dear friend, Katherine Glover Findlay, at the Adirondack League Club of Old Forge. She was also employed as a waitress for the Yauger family for many years at Slims Restaurant in downtown Boonville. She enjoyed working on cross word puzzles, playing Bingo, going on shopping trips during snow storms, and she took delight in keeping her children and grandchildren busy with sewing and crafts. Love for her husband, Bill, and her children, grandchildren and great grandchildren were at the center of Jenny's life.
She is survived by her husband, Bill; two sons, Reid and Melissa, Constableville, Dan and Vicki, Port Leyden; four daughters, Deb and Tom Morley, Laurie Niemeier and Van Planck, all of Port Leyden, Rosemary and Bob Healt, Boonville and Lisa and Bill Fayle, Greig, 21 grandchildren and their wives and husbands, and 25 great grandchildren. She is also survived by her best friends, Nina Kwasniewski, and Katherine Marmon, four sisters in law, Mabel Bauer, Sharon Villiere, Lucille Covey and Marge Covey; and nieces, nephews and cousins. She was predeceased by a granddaughter Jessica Niemeier, in 1980, her sister Geraldine Lawrence Smith and her brother Francis Villiere.
Her Funeral will be on Monday at 2:00 P.M. at Trainor Funeral Home, Inc. 143 Schuyler St. Boonville, with interment in the spring in Pennysettlement Cemetery. Calling hours are Sunday 1-5 P.M. at Monday from 12 Noon until 2 P.M. at the funeral home.
Memorial contributions may be made to Port Leyden Fire Co. Ambulance, or to Friends of Lewis Co. Hospice, Inc. P.O. Box 266, Lowville, NY 13367. Following the services, all in attendance are invited to attend a luncheon at the Port Leyden Fire Hall. -
See more at: http://www.trainorfuneralhome.com/obituary/Genevieve-N.-Covey/Pennysettlement-NY/1344207#sthash.JUCEJURI.dpuf
Details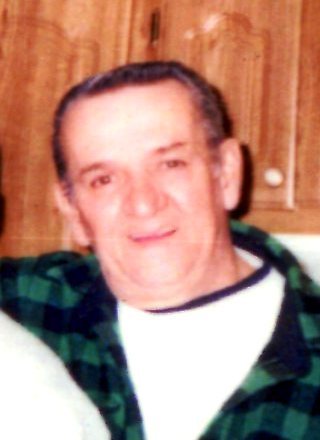 June 16, 1940 to February 11, 2014
Hawkinsville-Clarence S. Capron, 73, of Hosper Lane, affectionately known as "Pudge," husband of the late Luella, passed away on Tuesday, February 11, 2014, at St. Elizabeth's Medical Center, Utica.
He was born on Potato Hill Road in the Town of Boonville, on June 16, 1940, a son of Charles and Anna Grace Greenlow Capron. He grew up on Potato Hill, later moving to Ford St. in Boonville, where he lived for several years, completing his education at Boonville Central School. Pudge was first employed on several area farms; later he was employed at AMF, Lowville, Mercers Dairy, Boonville, as a deliveryman, Hart & Crouse, Co. and Foster Paper Co., both of Utica. His last employment was in the casting department of Revere Copper & Brass Co. Rome, where he was employed for thirty five years, retiring in 1994, due to disability from injuries he received in an industrial accident. Mr. Capron was united in marriage with Luella Webster on February 14, 1961, at the First Baptist Church of Boonville. This was a loving union that endured for 44 years, until Luella passed away on October 12, 2005. Pudge enjoyed time spent with his family, and hunting and fishing.
He is survived by his children, Diana L. Sturtevant and her fiancée, Mark Siegfried, Rome, Debora Capron and fiancée, Walter Matulewicz, Lowville, Brenda (James) Nellis, Remsen. He was predeceased by his son, Ronald E. in 2012. Also surviving are 10 grandchildren, Stephanie Persons and Wendi Roberts, Wendy Sturtevant, Casandra (David) Maine, Chad (Sarah) Sturtevant, Justin Beyer, Brittany Beyer, Makenzie Rocker, Ashlie Rocker and Amanda and Maegan Capron; 11 great grandchildren, Bryce, Jaedyn, Zachary, Kyle, Brandon, Kevin, Shala, Christina, Nicole, Logan, Madison; four brothers, Maynard (Charlene) Capron, Boonville, Thomas (Jean) Capron, Port Leyden, William Capron, Oneida, Lawrence (Sue) Capron Floyd; one sister, Betty Ann (William) Laquay, Boonville, a step sister, Joan (Jim) Buchala, Hawkinsville. He was predeceased by a brother, Walter, in 1986, and by a brother David Lee, who died in infancy. Also surviving are several nieces and nephews.
His services will be Saturday at 11:00 A.M. at Trainor Funeral Home, Inc. Interment in the spring will be in Boonville Cemetery. Calling hours are Friday 2-4 & 7-9 P.M. at the funeral home. Memorial contributions may be made to a charity of one's choice.
See more at: http://www.trainorfuneralhome.com/obituary/Clarence-S.-Capron/Hawkinsville-NY/1343484#sthash.v3C7gOQJ.dpuf
Details
October 27, 1936 to February 12, 2014
CASTORLAND – Gerald F. McVoy, 77, of Main Street, Castorland, died early Wednesday morning, February 12, 2014 at Lewis County General Hospital, under the care of the hospital staff and Lewis County Hospice.
A funeral service will be held on Monday, February 17, 2014 at 7:00 p.m. at Iseneker Funeral Home, Inc., Lowville with Rev. Mr. Ronald Pominville, officiating. Spring burial with Military Honors will be in Lowville Rural Cemetery. Calling hours are Monday, from 4 – 7 p.m., prior to the funeral service, at the funeral home. Contributions may be made to Friends of Lewis County Hospice, P.O. Box 266, Lowville, NY 13367.
He is survived by his wife of over 52 years, Joan; a daughter, Susan (Young) Kulzer and her husband, Greg, of Lowville; a son, Michael McVoy of Glenfield; a sister, Marilyn Homan of Carthage; two granddaughters, Heather Young of Indianapolis, IN; and Jessica Young of Watertown, NY; and several nieces, nephews and cousins. He is predeceased by two brothers, Lawrence and Richard McVoy, and by two sisters, Patricia Balash and Mary Payberg.
Gerald was born on October 27, 1936 in Utica, NY, a son of the late Vern and Bernadette Hurley McVoy. He graduated from Remsen Central School and served in the U.S. Army and the Army Reserves. On May 20, 1961, he married Joan Bush at St. Peter's Catholic Church in Lowville. In January 1966, Mr. McVoy began his employment at Climax Manufacturing in Castorland and Lowville, where he worked as a Cost Analyst and Customer Service Representative. He retired from Climax on October 31, 1997. Gerald served as the Board President of Karcher Country Estates for 20 years.
Condolences may be made online at www.isenekerfuneralhome.com
Details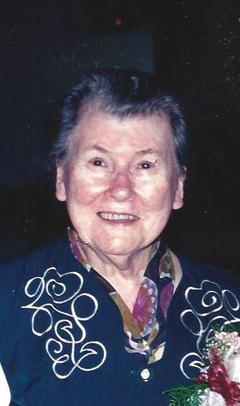 July 15, 1918 to February 10, 2014
LOWVILLE – Louise M. Purvines, 95, formerly of NYS Route 26, Lowville, died Monday evening, February 10, 2014 at the Lewis County Residential Healthcare Facility.
The funeral will be Friday, February 14, 2014 at 11:00 a.m. at Apostolic Christian Church of America, Croghan, with ministers of the church officiating. Burial will be in the Apostolic Christian Church Cemetery in the spring. Calling hours are Thursday, February 13, 2014 from 2 – 4 and 7 – 9 p.m. at Iseneker Funeral Home, Inc., 5702 Waters Road, Lowville. Contributions may be made to a charity of one's choice.
She is survived by her six children and their spouses, Joyce R. Rice of Latham, NY; Janet E. Beck of Lowville; Lawrence V. and Rebecca Purvines of Branson, Missouri; Linda and Fred Lawton, Sr., of Lowville; Robert J. and Diane Purvines of Lowville; Michael and Susan Purvines of Lowville; a sister, Bernice Hirschey of Castorland; 13 grandchildren, Janelle and Julie Rice; Kristina Wener, Kim Gould, Louie Beck, Jr.; Fred Lawton, Jr., Lynnette VanNest, Nicole Dubach, Dan Lawton; Cary Mullin; Jackie Blunt, Kelly Purvines, John Purvines; 14 great-grandchildren and two great-great granddaughters; nieces, nephews and cousins. She was predeceased by her husband; by a son, John Purvines, who died November 22, 1976 at the age of 19; two sons-in-law, Carl Virkler, who died on January 2, 1968, Louis F. Beck, Sr., who died May 25, 2001; by two grandchildren, Marie Louise Purvines and Robin John Purvines; and by four brothers, Niles, Allen, Kenneth and Donald Farney.
Louise was born on July 15, 1918 in Town of New Bremen, New York, a daughter of the late Norman J. and Huldah Virkler Farney. She graduated from Beaver Falls High School in 1936. On November 25, 1943, she married Lawrence V. Purvines at Carthage Baptist Church, with Rev. Mahlon Pomeroy officiating. Louise worked as a short order cook at the Weimer Hotel in Lebanon, PA. Mrs. Purvines was a homemaker and raised her family. Mr. Purvines died September 12, 2004. Mrs. Purvines was a member of Apostolic Christian Church of America, Croghan. Mrs. Purvines was an excellent cook and baker. She did seamstress work for area customers, and made quilts and knit socks, mittens and sweaters for her family. Louise was an avid gardener, and she loved to travel with her husband throughout the country.
Condolences may be made online at www.isenekerfuneralhome.com
We accept obituaries from Funeral Homes only. If you would like to have an obituary aired on The Moose and on this website, please tell the funeral director to e-mail or fax (315-376-8549) the obituary to us. The Funeral Director will be charged for any and all obituaries aired on The Moose and on this website. Obituaries are changed according to their length. The entire obituary will be aired during Today In the North Country (8:25AM, Mondays through Saturdays) the first day. A shorter version will air each day prior to the funeral.
Sorry, we do not accept any obituary announcements from anyone other than a funeral home. All obituary announcements received will run on WBRV-FM in Boonville, WLLG-FM in Lowville and on this website. Thank you for your cooperation.