Details
August 4, 1939 - February 27, 2015
LOWVILLE - Theodore J. "Teddy" Bielecki, 75, of the West Martinsburg Road died Friday morning at Samaritan Medical Center with his family at his side.
Born in Rzeszow Poland on August 4, 1939 the son of the late Antoni and Veronica M. Oliwa Bielecki, he attended school at Lowville Academy and Central School and graduated from Canton ATC. Teddy was a pipe fitter and welder for Local #73 Plumber and Steam Fitters out of Oswego, and served his apprenticeship with Local # 117 Watertown before they merged.
He was an avid outdoorsman enjoying camping, hunting, fishing, taking pontoon boat rides and loved driving the back roads on Tug Hill while sightseeing.
Teddy was a communicant of St. Hedwig's Catholic Church, and Lowville American Legion Post # 162. He was proud to have served in the U.S. Army from 1960 to 1962, when he was honorable discharged.
Surviving are his four children, Susan M. Bielecki of Baldwinsville; Alan D. Bielecki of Lowville; Christine A. Salmonsen of Georgia; and Jane K. Zappala of Syracuse; his long time companion Helen Larkins; his two sisters, Ann D'Alfanso of Depew; Patricia Brower of Rodman; seven grandchildren and one great granddaughter.
A funeral mass will be said on Monday, March 2, 2015 at 11:00 A.M. at St. Hedwig's Catholic Church with Rev. Christopher Carrara, Pastor officiating. Spring burial with military honors will be in Lowville Rural Cemetery. There are no calling hours.
Ted loved his dogs, Teddie and Hercules, and memorials may be made to; Lewis County Humane Society, P.O. Box 682, Lowville, NY 13367
For an on-line message of sympathy, please go to www.sundquistfh.com
Details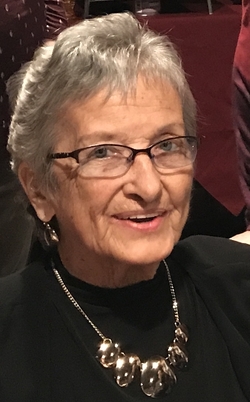 August 6, 1935 to February 28, 2015
WATSON - John W. Platt, 79, passed away at his home on the River Road, Saturday, February 28, 2015.
John was born on August 6, 1935, in the Town of Western to the late Kenneth and Gladys Clark Platt; attended Boonville Adirondack High School and took business management courses at Canton ATC.
On September 18, 1969, he was married to Loretta D. Dimock (Wilton) in Mexico and retired as plant manager from AMF Manufacturing Co. after 30 years of employment. He then went to work for ARC and Ottis Technology until the age of 78. He enjoyed hunting, fishing, camping and having his two youngest grandchildren spending the summers and holidays with him and his wife.
John was a life member of Lowville Elks Lodge #1605.
John is survived by his wife, Loretta; sons: Kenneth & Debbie Platt of Port Leyden, John & Sandy Platt of Martinsburg, John & Deborah Wilton of Lowville and Steve & Mary Wilton of Constableville; daughters: April & Frank Burrows of Brantingham, Debra Hill of Boonville, Katrina Petrie of Gouverneur, DeeDee and George Berry of Lowville, Kathy Powlin of Lowville, Trisha Morrison of Rhode Island and Linda Wilton of Croghan; one sister, Georgann Platt of Boonville; 23 grandchildren; 31 great-grandchildren and 8 great-great grandchildren.
He is predeceased by his two brothers: Kenneth Platt and Bernard Cushman and three sisters: Shirley Bronzewski, Beatrice Klatos and infant sister, Betty Cushman.
There will be no services or calling hours. A private burial will be at Beaches Bridge Cemetery. Arrangements are with the Sundquist Funeral Home.
Memorials in John's name may be made to: Lewis County General Hospital Auxiliary, 7785 N. State Street, Lowville, NY 13367.
To leave an on-line message of sympathy, please visit www.sundquistfh.com
Details
September 16, 1944 to February 19, 2015
MARTINSBURG – Charles "Tex" Smithling, Jr., 70 of Cemetery Road, died Thursday evening, February 19, 2015 at the St. Elizabeth's Medical Center, Utica.
A memorial service will be held at 11:00 a.m. on Wednesday, February 25, 2015 at Iseneker Funeral Home, Inc., Lowville, with Rev. Evan Zehr officiating. Calling hours are from 10:00 a.m. - 11:00 a.m., prior to the memorial service, at the funeral home. Spring burial will be in Martinsburg Cemetery. Contributions in his memory may be made to a charity of one's choice.
He is survived by his brothers and sister, Thomas H. and Judy Smithling of Seneca Castle, NY; Patricia H. and John Yarina of Lowville; Timothy W. and Leueen Smithling of Beaver Falls; Francis M. and Lisa Smithling of Martinsburg; several aunts, uncles, nieces, nephews and cousins. He is predeceased by a sister, Cynthia E. Smithling, who died in infancy.
Charles was born on September 16, 1944 in Lowville, NY, a son of the late Charles H., Sr. and G. Helen Edick Smithling. He attended country school in Martinsburg and Lowville Academy. After his schooling, he worked on area farms before going to work for the Lewis County Highway Department for more than 35 years, retiring in 1999.
Tex was a member of B.P.O.E. 1605, Lowville Elks Lodge. He enjoyed hunting and fishing, snowmobiling, four-wheeling, and gardening. Tex enjoyed spending time with his family.
Condolences may be made online at www.isenekerfuneralhome.com
Details
May 19, 1975 to February 19, 2015
Port Leyden- Stacy Lynn (Hutchins) Moran, 39, of Moose River Road, wife of Jason, passed away while surrounded by the loving care of her husband and family on Thursday, February 19, 2015, at St. Luke's Memorial Hospital, New Hartford, after an illness of two years.
She was born in Lowville, on May 19, 1975, a daughter of Katrina Hutchins. Stacy grew up in Port Leyden, where she attended elementary school, graduating from South Lewis Senior High School, Turin, with the Class of 1994.
On March 8, 1994, Stacy was united in marriage to Jason S. Moran, in Winter Garden, Fla. For a time the couple lived in Florida, before returning to Port Leyden. Stacy greatly loved her children and family and cherished the time she spent with her family. She also found joy in the outdoors, swimming, fishing and traveling. She will be fondly remembered as a loving and caring person.
In addition to her husband, she is survived by a son, Justin, and a daughter Krizma, both at home; and a sister, Stephanie Robbins, and her three children, Glenfield. She was predeceased by her mother, Katrina, on December 6, 2012, and by her grandmother, Pearl Hutchins, on September 14, 2009.
Her Funeral will be Monday at 1:00 p.m. at Trainor Funeral Home, Inc. 143 Schuyler St. Boonville, with interment in the spring in Wildwood Cemetery, Lyons Falls. Visitation is Monday 11-1 p.m. at the funeral home. Memorial contributions may be made to Lewis County General Hospital Foundation specifically for Kidney Dialysis Unit, at Lewis County General Hospital 7785 North State St. Lowville, NY 13367.
- See more at: http://www.trainorfuneralhome.com/obituary/Stacy-Lynn-Moran/Port-Leyden-NY/1482955#sthash.05Htlm51.dpuf
Details
October 8, 1916 to February 19, 2015
LOWVILLE – Theresa (Tess) Ingersoll, 98, formerly Martinsburg and Brookside Circle, passed away Thursday afternoon, February 19, 2015 at the Lewis County Residential Healthcare Facility.
A graveside service will be held in the spring at Martinsburg Cemetery. There will be no calling hours.
She is survived by her husband of 75 years, Edward; a son and daughter-in-law, Richard and Helen Ingersoll of Haslett, MI; a daughter-in-law, Sally Ingersoll of Carthage; a sister, Caroline Matula of Boonville, NY; four grandchildren, six great-grandchildren; and several nieces, nephews and cousins. She is predeceased by a son, James; a brother, John Paluck; and three sisters, Mary Wasco, Victoria Wasco and Bernice Wojnowski.
Theresa was born in Turin, NY on October 8, 1916, a daughter of the late Martin and Elizabeth Hadik Paluck. She attended country school on Tug Hill, and did domestic work for the Merrell, Miller and Singer families prior to her marriage. On October 29, 1939, she married Edward O. Ingersoll at Turin United Methodist Church. Together with her husband, the couple owned Ingersoll Farm Supply in Martinsburg from 1955 until 1966. Tess worked for the Snow Ridge Ski Resort as a bookkeeper and clerk during their busy season.
Tess was a member of Martinsburg United Methodist Church. She was a member of the Marine Corps League, a member of Lewis County Memorial Post #6912, VFW Ladies Auxiliary, and a member of the Lowville American Legion Post #162 Auxiliary. She enjoyed refinishing furniture that her husband had made, tending to her flower beds, and maintaining her immaculate home.
Arrangements are with Iseneker Funeral Home, Inc., Lowville. Condolences may be made online at www.isenekerfuneralhome.com .
We accept obituaries from Funeral Homes only. If you would like to have an obituary aired on The Moose and on this website, please tell the funeral director to e-mail or fax (315-376-8549) the obituary to us. The Funeral Director will be charged for any and all obituaries aired on The Moose and on this website. Obituaries are changed according to their length. The entire obituary will be aired during Today In the North Country (8:25AM, Mondays through Saturdays) the first day. A shorter version will air each day prior to the funeral.
Sorry, we do not accept any obituary announcements from anyone other than a funeral home. All obituary announcements received will run on WBRV-FM in Boonville, WLLG-FM in Lowville and on this website. Thank you for your cooperation.