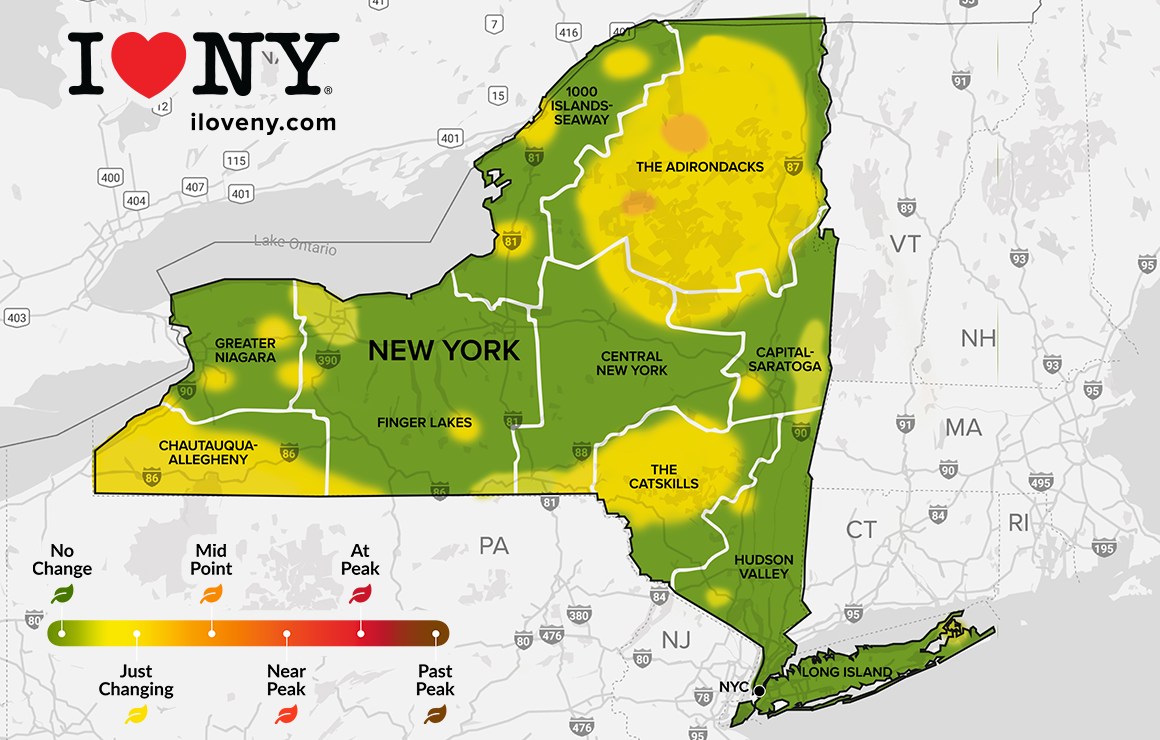 ADIRONDACK PARK & NORTH COUNTRY- This is the second 2023 I LOVE NY Fall Foliage Report for New York State.
Reports are obtained from volunteer field observers and reflect expected color conditions for the coming weekend. Reports are issued every Wednesday afternoon.
In the Adirondacks, foliage spotters from Tupper Lake and Mt. Arab Lake in Franklin County predict up to midpoint of change for the coming weekend, with 45-50% color transition.
Shades of pineapple, dandelion, turnip, apricot, tangerine, cranberry, avocado and sporadic scarlet will transform the landscape.
The repeat of last year's sweltering summer coupled with no frost and plenty of rain have created a slow, muted transition this year, with spotters awaiting an explosion of magnificent hues.
In Saranac Lake, spotters expect about 25% change, with a muted mix of green and yellow leaves, along with isolated pops of red, especially along the waterfront.
Herkimer County foliage spotters in Old Forge predict foliage may reach midpoint of change with up to 40% transition dominated by dark reds and burgundy, along with some yellow, gold and emerging orange. There is still a significant number of green leaves.
Hamilton County spotters reporting from Lake Pleasant predict 20% leaf change this weekend with increasing shades of red and orange leaves of average brilliance.
Reports from Long Lake predict 10% transition with some muted yellow leaves and individual maple trees showing red.
In Lewis County, spotters in Lowville expect nearly 15% foliage change, with hints of yellow and some muted orange.
Oneida County reports from Utica expect a little over 5% transition, with yellow leaves of average brilliance just beginning to appear.
I LOVE NY image.